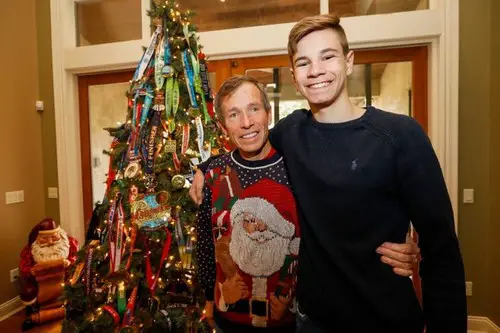 Last Updated on
At 21 years, boys become men, so getting them a gift could be somewhat confusing. If you are looking for gifts for 21 years old males in your life, I've dug out the best and affordable gifts you can get them.
Go through this list and make a choice; let us make that man happy. On my list, you will see actual things a 21 years old guy wants, not the usual ties and boxers. When picking a gift, you can find out what he doesn't have and also his favorite color may play a big role.
Nobody jokes with their smell; everybody loves to smell good, that's why getting this Armani spray will make an awesome buy. With a few bucks, you can upgrade his sent to something premium. He sure will love this.
Laced in class is this vintage wooden wristwatch. It doesn't matter if this 21 years old male is your brother, boyfriend, son, friend, or he means something else to you; you can customize a message behind it or pick any of the already written messages and put a smile on his face this Christmas.
It comes in a nice gift box; it is made of 100% real ebony wood case with a genuine leather band. It is soft and comfortable and is trendy but unique. I mean, it is a vintage wristwatch.
As a young man, the gift of his strength could be called in at any time; this 9-in-1 toolset can come in handy. It comes with handy tools like seat belt cutter, window glass hammer, tire air tester, meter, manometer, barometer, and a working digital car tire air pressure gauge plus a flashlight.
It is a useful gift that could play a role in critical emergencies and daily activities. Every man will accept this, especially those transcending to full-grown men.
This electronic game is one every 21 years old male will love to participate in. With over 5000 adult words and phrases, he sure will not run out of words to fling around with the boys. It has a timer that buzzes when a player's time runs out. It's a perfect game for a boy who hangs out a lot with dudes he grew up with.
Going camping is an activity every youth will love to participate in. Not everyone knows how to set a good campfire; your 21 years old male friend doesn't have to go studying how to set up a campfire. With this portable instrument, he can skip that.
It is made from recycled soy wax; it is easy to light, making it a reusable campfire for beach, backyard, and camping. It has a shelf life of 30 years; he should be 51 when he no longer needs it.
Having everything in one bag is a blessing. With this unique portable laptop backpack, your 21 years old male child will go hiking or traveling with class. This backpack offers lots of storage space and pockets. It can hold up to 15″ laptop and still have enough room for other tech electronic accessories.
It offers a convenient USB and Headset port; its built-in cable design is good for charging all electronic devices on the go. His devices and other accessories will be safe due to the backpack's password lock and durable metal zippers. Not to forget its quality polyester fabric materials.
Take it from me, as a boy or girl; the 20s life is quite difficult. I am not trampling other age brackets, but at 20, we are often confused; with the amount of information and connectivity at our hands, we often don't know what to do with or how not to let it get the WORST of us; this book can put your 21 years old male friend a step ahead.
We welcome him to the early parts of the '20s, now get this book for him, so he forges ahead. It was expanded from the blog post "21 secrets for your 20s," with almost a million readers in 190 countries.
Before we go into details, this camera is "REFURBISHED," which means it has been used before.  However, it will take a high level of expertise to spot that out, and for a camera of this nature, a refurbished version will do just fine.
This 2″ color touch-screen LCD camera is a dream for every 21 years old boy, especially those who love going on adventures or participating in extreme sports. It has a built-in studio microphone with a noise reduction feature. (Yes, it will be eligible for replacement after 90 days).
With his smartphone, Google Assistant, or Alexa, your 21 years old friend can do-and-undo using these smart bulbs. From the Hue Bluetooth app, he can give commands with his voice assistant or a few buttons. It has a 22 years or 25,000 (hours) lifetime, that's more than enough. From the app, he will be able to control over 40 smart lights easily.
It also offers automatic features and can add other accessories like sensors and smart switches. This will make a great gift for your friend or 21 years old male relative.
He can charge all his Apple gadgets on this charging stand. It will hold his iWatch steadily without allowing it to fall, enabling him to view and operate his alarm efficiently. It offers a hand-free feature; here, all he needs to do is place his iPhone and stream his videos or have a video call.
The renowned Apple Airpod isn't left out. It wouldn't take him much time to assemble it; every 21 years old Apple device lover will love this.
It is both fancy and classic. Its blade is soft and wouldn't harm him. It has a flexible neck so he can position it anyhow he likes. All he has to do is, dedicate one USB port for the fan and enjoy a cool breeze. He doesn't need a driver to activate the fan's clock as it will tell the accurate time once plugged in. It comes with a warranty; I bet your boy will love this fan.
As a 21 years old male, his hygiene is integral; get this nine attachment set for all his immediate grooming needs. It comes with a full-size trimmer, foil shaver, nose, ear, and detail trimmer, beard kits, and much more.
It can run without power for up to 70 minutes so that 21 years old young man wouldn't be ever caught off guard. It is a self-sharpening and surgical blade for a long-distance performance.

He doesn't need any big fancy machine to have an espresso; with this small device, he can get as much as he wants. It doesn't require electricity or battery to function; its manual operation only. From the first sip to the last droplet, he will feel nothing but pleasure.
It comes with a protective case so, even on a journey to the mountains or down the river, it will come back as clean as and spotless. He wouldn't have a hard time cleaning it, especially if he is as impatient as my brother. The espresso maker has other accessories than can be purchased separately.

Dirty keyboard, dirty car seats, not a problem; you've got a solution for it. This rechargeable portable vacuum will clean dust, debris, crumbs, pet hair, and liquid from any surface it is used on.
It is highly efficient, a great and useful gift; it will save energy adequately, cord, and hassle-free and easy movements. It is a fast charge and durable. Your 21 years old male relative will appreciate this wholeheartedly.
Twelve hours playtime, wireless Bluetooth streaming with quality audio, what better way to celebrate the Xmas holiday than getting this thoughtful gift for your boy. He can blast his music in his room, dorm, college grounds, and even at the pool party without worrying about water damage. It is battery powered, and its battery will last long. Get this practical gift for 21 years, old males.
Wrapping It Up On Gifts For 21 Years Old Males
Getting gifts for men is some times hard, a 21 years old male has his unique type of stubbornness; they may hit you with the "I am fine don't get me nothing" or they tell you exactly what they want. If you plan to surprise them, the gifts here will do just that. Thank you for visiting us. Have a fantastic day.
--->> Final Gift Suggestion <<---
Still can't find what to get for that extraordinary person in your life? Check here; you might find something exceptionally interesting!!!