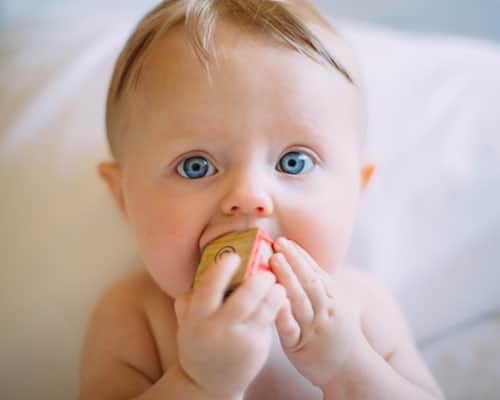 Getting gifts for babies under 1 year old is a little bit tricky. At this age, they may be attracted to the box and not what is inside. I mean, you can't confidently tell what they want; all they do is, cry, eat, poop and sleep, so what exactly can we get them?

No doubt, they can't tell the cause of the spectacular joy in the house; it might be their first Christmas, you still need to fill them in on the loop. Here, I have a collection of 15 gifts for kids under the age of 1; you can find something here for your one month to 12-month-old baby.

Yeah! It may seem weird for some; I mean, what will a 6-month old baby do with a camera? Anyways it isn't for them. The reason I have this gift here is for this. From now till when they are five or lower, you could take pictures of them, every weird or funny thing they do, every food they spill and cup the break.

Create an email address and upload every picture you take of them to it; then, when they are of age, you give them the password to the email. You could also get the picture's physical copy for their gallery. I will love to see everything I did when I was an infant; I bet they will love it too.

The unicorn design won the award from Melbourne and Nuremberg toys exhibition for the fabulous plush animal design. The structure and rocking horse appearance are all originally designed by a talented team from France.

It is cute and sturdy. You will only find these ride-on unicorns, plush rocking horse at the Labebe store, and your kids will be amazed and happy to have such a wooden rocking horse as a Christmas gift

Watch your baby cuddle, squeeze and hug these adorable animal toys or spend some quality time with your older toddlers and preschool children while helping them develop a vivid imagination, creativity, motor, coordination, and pretend-play skills. The cute colours and silky soft textures are sure to impress any child and keep them focused for longer.

The Laugh & Learn Game & Learn Controller is loaded with hands-on activities, including clicker and toggle bumpers for fair motor play, a joystick to press for sung songs, a D-pad with number buttons ready for pushing, and fun face buttons that start up the color, shape, and letter-learning action!

As your baby explores both "gaming" modes, they'll hear cool phrases, songs, and video game sound effects that introduce various early learning concepts.

Made from the same natural rubber and food-grade paints as the original Sophie the Giraffe. Great for little hands to hold and ideal for soothing painful gums. Features a variety of textures to relieve baby at different stages of teething.

It isn't too early to promote their music appreciation and auditory development by introducing them to baby-friendly versions of classical masterpieces by Mozart, Vivaldi, Chopin, and Rossini with the Baby Einstein take along Tunes.

A large, easy to press button allows your baby to toggle through 7 high quality and enjoyable classical melodies at home or for on-the-go fun. This baby's version of an MP3 player has colorful lights that dance across the screen to enhance each entertaining melody and promote visual perception.

The treetop adventure wooden toddler toy is packed full of motor skill activities. Your little one won't even know they're practicing their fine and gross motor skills as they investigate all of the features offered by this tree-themed activity center.

Would you love to see a Yeti? Your kid would. This Yulli Yeti is made of soft white plush with embroidered facial features and lock-washer eyes and nose. It is mixed with fabric accents, and an endearing smile makes this cuddly monster irresistible. Your kid will appreciate this as it is a perfect Christmas gift

.

With the delicate touch of your baby's little fingers, this pretty piano will let the baby create thousands of different songs. Made from wood, this piano toy features magic touch technology – no buttons or keys needed. Two modes of play give your toddler the ability to make their music or play along with classic melodies. Giving your baby toys that make music helps her tune into different rhythmic patterns and sounds at a young age.

Introduce your toddler to the animal world with the beasties collection. Huggy, the Python, loves to hug. Roary the Lion loves to roar. Touchy, the Octopus, loves to touch everything. But sometimes, they all do the things they love a little TOO much.

Are they always chewy? Then get them this ball set.

They will very much appreciate this blanket. It is the perfect choice for any kid.

You can't be around them every time, but this camera can. It will automatically switch to night vision mode when the lights go out so that you never miss a beat. Tap the microphone function in the EZVIZ app to activate simultaneous audio transmission to listen and speak as if you are in the same room.

This Baby crawl tunnel helps develop arm and leg muscles and gross motor skills. Excellent for sensory processing disorders, ADHD, and other developmental issues.  Fold up your colorful kid's tunnel crawl tube compactly for your baby, to take along to Grandma's house, and have fun interacting with your child crawling through the mesh peek-a-boo tunnel window.

This is the perfect first block collection to start those early engineering skills. These uniquely shaped blocks are easy to push together or pull apart from any angle. No need to align them perfectly. It eliminates frustration and encourages imagination. Stack them up or even build sideways.
Wrapping It up on Gifts for Babies Under 1 Year
When you are shopping for your four months or nine-month-old baby, you aim for things that will stimulate them. Toddlers tend to grow rapidly; their brains are taking notes of everything. Intellectual toys will go a long way, and our list has a few of them. I hope you get through your gift-shopping well; thanks for dropping by.