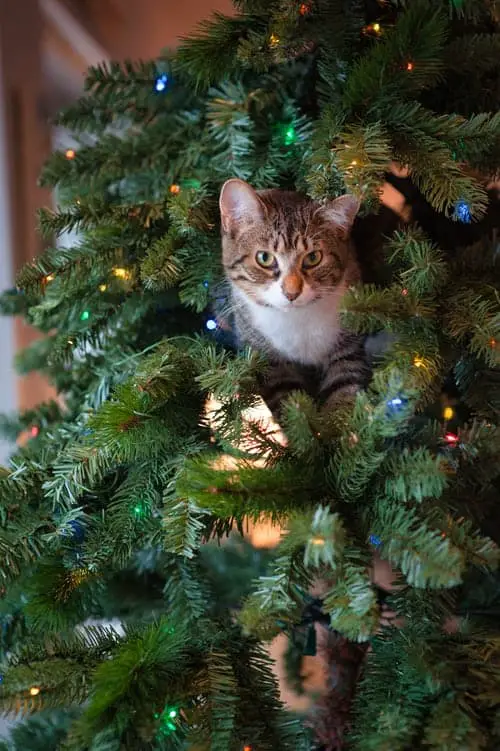 As a proud Ailurophile (cat lover), I know how happy I get whenever I come across anything related to our proud independent feline. The festive holiday is upon us; it's time we give gifts to show appreciation to that super cat lover in our lives.
If you are looking for beautiful Christmas gifts for cat lovers around you, MISG has you covered. In this post, we have researched the 25 best gifts for that cat lover in your life. From fantastic cat phone cases to beautiful cat wine holder, go below to get one for the item for a philofelist.
All gifts listed here exceed 4.3 ratings on the merchant's shop. We give you the best Christmas gifts for Puss 🐈 lovers only.
My Top 10 Christmas Gifts For Cat Lovers
(Go below for more)
[table id=4 /]
It is unique, made of ceramic, high quality, and beautiful. The Cat mug goes as #1 on our Cat themed gifts. Tea or coffee is a typical drink among people. About half the American populace drinks tea every day, especially in the morning.
Having a cat purr-fectly drawn on a cat lover's mug could be the right motivation they need to start their day. The mug is irresistible with different cat features scattered throughout its body.
Up there is a cat mug; fitting slippers will fit perfectly. Jumping down from one's bed into a slipper laced with a pussy cat could be the best thing to happen daily.
The HAFLINGER Women's Lizzy Wool Slippers is soft, lightweight, cozy, 100% breathable, and offers a Catlike applique shape. You will sweep any kitty lover when you give them this as a Christmas gift.
It is Christmas. How about we design our Christmas tree with this Ornamental? Beautiful, colorful, perfect, cute, these are the few qualities that the Enesco Pusheen Ornamental possesses. Getting this for a cat owner will be gorgeous. Don't forget to drop by to see how they decorated their tree with this gift.
You know cats believe they own everything; they are entitled charmingly. Of course, they own your bed even if you share it with your spouse. If you get this gift for a cat family, they will much appreciate it because everyone, including Mr. Cat, will know where they belong.
The Rubies & Ribbon pillowcase is soft, made from cotton fabric, high quality, and easy to clean. It is made from standard cotton and is quite breathable.
It will fit just fine with their home furniture because of its high-quality features. Any cat lover will cherish this gift wholeheartedly. It is an inexpensive gift for cats lovers.
With not up to 15 bucks, you can get this for your felineophile friend who will place them under every cup, glass, teacup present in their house.
You can't find this shower curtain anywhere. Everything about it, from its design down to the texture used in creating it, is high quality. Made from 100% polyester, it is an incredible cat-themed gift for that puss lover in your house. The graphics are bold and are printed with a state of the art digital designer printer.
Before making this move ensure you know the type of Phone your receiver uses. A beautiful cat phone case would do so much good and put a smile on the face of a genuine ailurophile. A ton of styles exists that you can pick and choose from. It will be a bonus if you know the favorite color of the cat lover you have in mind.
Everything about this necklace shows what a cat is. It is a silver piece of beauty that shows a feline clinging to the chain itself. We know cats are independent, but if Mrs purr decides to cling to you, you have no option than to grant her wish. Someone who loves cats will understand better; get this for them and watch them cling to the necklace.
Yeah! Its name says it all. It is Christmas right, and you know candle lighting is synonymous to Christmas; how about you get a candle that doesn't only fit the season but fit their love for cats? After the candle burns out, you will find a… Never mind, Cat lovers only 😉
76% cotton, 21% Nylon, 3% Spandex these are the few qualities this beauty possesses. It then takes things higher by giving a clear warning to others, watching, "I can't get up right now, the Cat is on my lap."
As a cat lover, I can confirm it takes an amount of trust for your Cat to fling itself around you. They do what they want when they want. If she's curled on your laps, you better let Mrs. Kitty rest. A cat lover knows this; this is one of those great Christmas gifts for Car lovers.
Pusheen is a chubby gray tabby cat that wants you to cuddle him. It is happy 24/7 and will make any cat lover happy too. It is made from soft, huggable material and is on par with the famous GUND quality standard. It is the perfect Christmas gift for cat lovers and can be gotten from Amazon.
You rarely see someone who will turn down a good earphone. No matter the amount one has, adding some more to their collection is something everyone welcomes. Now, how about we use one stone to kill two birds. Go below and get this superb headset for that feline lover of yours.
The Censi music headset is a noise canceler design with soft, soothing material to give less staring or pain to your ear. It is also equipped with a market common 3.5mm headphone plug, 40mm big moving coil, and low impedance. You know what, stop reading and get this Cat themed gifts for that kitten lover in your life.
Are they always on their computers like me? Are they fun of their cats but will love to focus while working? Then the Cat Paw Mouse pad is right for them. Everything about this gift brings comfort.
From its wrist rest additional package made from silicon to its creative design, although it is inexpensive, it still goes down as a luxurious gift for cat lovers. It comes in different colors so, choosing the right color for them will be a should I say, a huge bonus.
O yes! This is a beautiful set that will sit fine in a kitchen. Using this, a cat lover can have their Cat staring back from their pan in the form of an egg. What this does is arrange the fried egg to look exactly like an egg staring back (whispering, they are instructions for this).
Your favorite cat lover will surely love this egg mold. It is quality over quality and safe for all. Get this beauty for that aelurophile in your life.
O yes, the Cat demands that anyone entering this house must dust their feet. It is made of rubber back stick that makes it durable and anty-slip. It is also Anti-bacterial and moist resistant. Due to this feature, bacteria can't pile up on your surface.
Washing wouldn't be a problem with this mat. It is an ideal indoor and outdoor mat and can be used both in your bathroom and your pool. See some gifts for your sister in law.
Full Queensize Duvet plus pillows. They were made from soft brushed microfiber polyester. You know most of the gifts here connect. After leaving their bed and jumping into their cat slippers, they then arrange the bed with this beautiful duvet and start preparing breakfast with the Silicon cat mold up there while drinking from their cat cup.
With such amount of collection, you have solved the question, "what do you buy a crazy cat lady." The beddings come in white and gray colors with cats jumping on it – not literally. It will be a great gift for kid cat lovers due to its gentle feel and alluring design. Woah! A grown-up man or lady will appreciate this gift so well. Get it below.
If you don't want the Candlelight, this handmade cat lamp will do just fine for your that cat lover you love. It is beautiful, modern, engraved with wood, and comes with feline humor. Its LEDs are hidden, that doesn't stop it brightening any room it finds itself in.
Your cat lover pal will appreciate this after using it for two to three days because it doesn't cause add load to your electric bill. The Large Modern Cat-themed Lamb counts as an incredible luxury gift for any cat lover.
Do you have a crazy cat lady at hand? Someone as obsessed about cats as me, then this is one of those fantastic gifts to put a smile on their face. It is inspired by our feline friend, of course, and is tarnish-resistant, nickel-free, lead-free, and much more.
The BGTY 925 doesn't post any allergic element of any sort and is comfortable to wear. Its size is both cute and perfect, and it comes in an ideal box that fits for that cat lover in your life.
This gift is for people with kittens. Any lady that loves Cat will welcome this present wholeheartedly. Its material is from polyester fiber, making it soft, lightweight, and comfortable. Any lady who is crazy over cats like me will embrace this gift. I am getting one for myself 😂😂.
Are you looking for an inexpensive gift for cat lovers? The MSC meow bag ties will do just fine. It will make for a simple present that wouldn't break your bank. It is Cat-themed and is a fun and easy bag sealer for both adults and kids, giving ease in twist and ties. Your receiver could use it as a napkin ring and cold wrangler. It can be cleaned up and used over again.
Like the manufacturer says, it is the purr-fect opener for your bottles. It is made up of stainless but gives a mild soft touch when using it. Open your bottle's cork with the class making use of your double-hinged designed stainless-steel foil cutter. It is unique, of course, and will make a great Christmas gift for a cat lover.
Stainless, splash-proof, shatterproof, and easy-close lid. The Tervis Flat Art Cat Stainless Steel cup is a fantastic gift for any cat parent this Christmas. This cup doesn't just show our domestic Cat, but also its bigger brothers in the wild. It is a premium cup that radiates class. Make sure you inform your receiver that dishwashers, freezers, and microwaves aren't the best place to keep this gift. Also, they should wash it with a scratch-free sponge only.
That is one of the many hilarious write-ups you can find on this cup. These crazy glasses are great gifts for your Cat obsessed friend. You'll feel the joy they get from receiving this glass due to the funny quotes attached to them. You can give it to four different cat lovers or hand it over to one person.
Don't worry about the print, for it is made up of organic ink and wouldn't wash off in a dishwasher. It will last for a year. The beauty of the cup is in the quotes, so its manufacturers ensured the quotes don't quickly wear off. Get this gift for that cat parent in your life.
This right here answers the question, "What do you buy a crazy cat lady?" The Blue Q shoulder tote bag is it. Travel, Play, and work with your kitty beside you. Made out of recycled materials, this bag can be used every day without you being scared of wearing out. It is waterproof and easy to clean. Every cat kady will appreciate this, especially when she is stepping out.
Yes! This gift isn't just unique but an embodiment of class. It will fit just well on your shopping list for that cat-obsessed friend in your life. With a 5 star rating on Amazon, this lovey and cute, humorous wine holder will hold and keep guard of your wine for as long as you want it to. It is one of the best gifts for cats on our list, and a must buy if you'll ask me.
Wrapping It Up On Gifts For Cat Lovers
A ton of Cat beautiful gifts exist that will make any cat lover happy. If our 25 picks didn't cut it, follow this link to Amazon and choose what cat lover gift best suits your desires. Thank you for stopping by, do have a nice day.