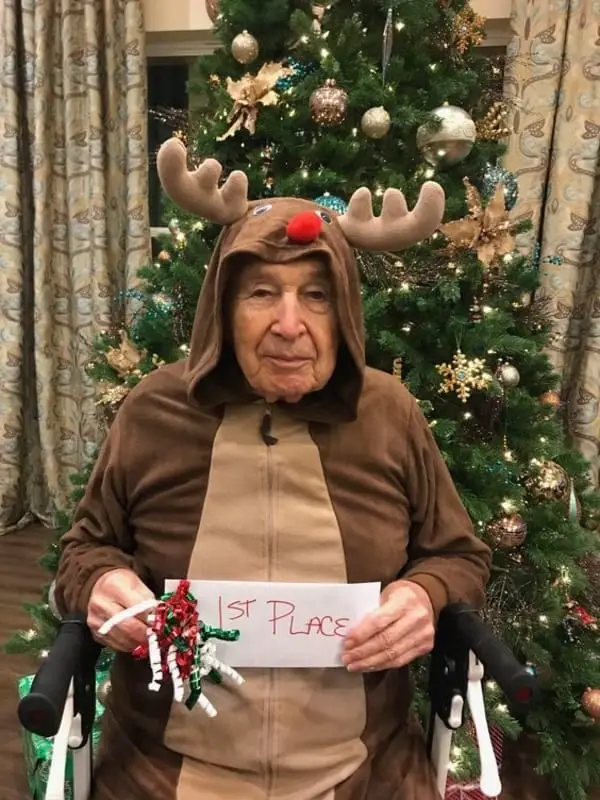 Choosing gifts for our Grandfathers is often tricky. Whenever we ask our grandpa what he will want for Christmas, he usually hits us with the "Nothing" answer. But you know you can't get him "Nothing."
For the childhood memories, they advise, the time he slid the candy into your backpack, the time he stood by you, all those are enough reasons to surprise him this Christmas.
In this Gift Guide, we have put together the best Christmas gifts for grandpa, he is old and alive, so those little acts of gratitude will go a long way.  Also, not all presents listed here will apply to your granddaddy, but still, there's something here he will greatly appreciate.
My Top 5 Best Gift for Grandpa
[table id=10 /]
Check more details below
I can't count the number of times my granddaddy had fixed my younger brother's bicycle. It always looked like magic when he was done. This gift right here applies to me; I believe "if grandpa can't fix it, no one can."""
In most cases, the quote "If Grandpa Can't fix it, no one can" on this keychain will cut across to life experience and more practical issues that needed fixing.
Get this eco-friendly and safe material and show your granddad how much you appreciate his ability to fix. It comes in a pouch; all you need to do is wrap it up and send it to him. He will very much appreciate it.
These socks will mean a lot to grandpa, especially if he has younger grandchildren around. The man needs to rest once in a while. This sock is soft and an embodiment of quality. It is made of cotton and will be soothing for your grandfather's feet.
It comes in different sizes and will fit into your granddad's leg perfectly. He will love wearing this whenever he is resting in the living room and doesn't want to be disturbed;  Yes!  He earned this.
Getting him to take his pills could be challenging most times, especially when you aren't close to him. This will be instrumental, at least for pops. He can plan and schedule his drugs, medicine, pills, or vitamins into two times a day for a whole week.
Ezy Dose comes with an easy to remove compartment and makes medicine easy to retrieve and take on the go. It can hold up to 45 pills per container and is built to last for a long while withstanding repeated use. It is a good buy, making it a practical gift for grandpa.
You can't have Grandpa going to the fridge or starting the heat anytime he wants a cold or hot drink, respectively. With the Takeya Insulated Travel Mug, he can have his beverage hot for up to 12 hours or cold for up to 24 hours.
It is leak-proof, which means no matter how granddaddy keeps it, its contains wouldn't pour out. Among many other outstanding features is its one-touch-open and close, which makes it easy for a one-hand drink.
Its comfortable handle will also come into play because he will be able to move around the house with it. Like the gift above, this is also a practical gift for grandpa.
You know, the gifts that often mean a lot are those that have that connection, that personal feel, those gifts that communicate appreciation and love. That is where this comes in.
It has a ton of fill-in-the-blank lines to allow you to pour out and express yourself, stating the reasons grandpa is the best. Just fill in the lines and let him go through it alone in the room. It will suffice as a gift for a grandfather who has everything.
He probably is used to the old measuring tape. Getting him this one and showing him how to use it will be a significant update for your granddad. No doubt it still looks like the tape he is used to, but this makes it more remarkable because he won't be getting something extraordinary.
It is rugged, durable, weather-resistant, and made out of polycarbonate plastic. It can hold up to three measurement memories. 2 long terms and one short term. It has a US/Metric conversion and is a must get for grandpa this Christmas.
Heard of the "Love Frequency?" Well, you are about to find out. It is said to be 528hz, and this meditation turning necklace can help you or grandpa with that. Its makers say it will help you reduce stress, strengthen your immune system, prevent burnout, increase your lung volume, and improve your overall health.
It has a 4.3 rating from over 300 users. Many claims just blowing through its whistle has worked wonders for them. You have no idea what grandpa could be worrying about, get him this gift for the Christmas holiday, and allow him to relax. I'll get this for myself – I mean, I'll one day become a grandparent.
Let's take him back to the days he was a young man, the days he frequented the clubs and dancing halls. Around when he was wooing grandma. Yes, the Victrola Vintage music suitcase can do that job for you.
Everything about it is quality. However, the streaming will be from a smartphone, via stereo RCA outputs, or from a non-Bluetooth device like a CD player.
This gem will bring back memories for grandpapa. The sound it produces is quality. You can choose any color from here, especially grandpa's favorite color. It offers different styles, and he will want this in his living room, office, bedroom, and even at any outdoor event, he hosts.
Save grand pops the stress of having to leave his bed whenever he is done reading. With this multiple purpose bedside organizer, your grandfather can have access to his favorite magazine, pen, remote, tablets, reading glasses, and even his 14″ laptop!
This bedside caddie comes in different colors and offers a resilient and robust design. Its material is soft and durable, making it one of the best Christmas gifts for grandpa as he will not need to leave his bed to get his lens or remote again. He can have all near him. A must get, I'll say.
Superior design, satisfaction guaranteed, men's fit. This shirt radiates joy, positivity, and class. Its inscription says it all; "I'm Not Getting Older Im Becoming A Classic" Yeah yeah, grandpa is old, but his wisdom and legacy live on.
So, I'll join this shirt to say, he is not getting older but transforming into a Classic Vintage man. Did I mention the work put in to print these shirts? The design is created to last, making it anti-fade.
Grandpa will consider this his favorite shirt, especially at a family meeting/reunion. It is made from ring-spun cotton, which promises comfort on your granddad's body. It's a unique T-shirt.
It goes down as a handy gift for grandpa as he will get addicted to it quickly. Apart from it being trendy footwear, these slippers are comfortable on the feet. It will aid him to relax after a long day. It has outstanding arch support and a deep heel cup and fits perfectly in the feet to reduce foot pain and regulate one's motion.
This quality is so superb, especially for an aging man. Don't worry about slipping off as it has a non-slip rubber sole with visible patterns to provide excellent traction and stability on all surfaces and terrains.
Right in its name is "Classic," and yes, it lives up to its name. The Keuig K-Classic coffee maker is state of the art. You can brew different k-cup pod sizes. It has a 48-ounce water reservoir allowing grandpa to get up to 6 cups of coffee. Don't worry; the reservoir can be removed.
The only part of this classic coffee maker is, you should clean it regularly to remove calcium deposits or scales that can build up over time. Don't worry about the buttons; granddad can handle that. Its manual is quite understandable and offers a ton of automatic features to help carry out some tasks like save-energy.
Does grandpa still break his back in front of his laptop? Well, you can help reduce the stress with this. With this adjustable table stand, he can have his laptop at any angle of his choice.
It is lightweight, has high strength and adjustable legs. It takes things up by boosting the quiet cooling CPU fan with a hidden USB. Grandpa doesn't have to assemble it; it comes assembled.
Do you know he can also use it as a breakfast tray? I must say it's one of those practical gifts for grandpa. It could serve as his writing-table, stand up desk, table holder, notebook stand, laptop desk, laptop holder, and many more. Get this one for a grandfather that is always on his laptop.
In his youthful days, he went to the bar; now he is getting old, let the bar come to him. The Whiskey Decanter and Glass Set is a bar on its own. Get grandpa a complete scotch set that comes with four × whiskey glasses, a decanter, and four × coasters.
Everything about this is quality; grandpa will surely appreciate this. It is a must-have for every home. Its lead-free quality special glass is premium quality. It will count as a new grandfather gift; check it out.
This goes down as a personalized gift for your granddad. The watch is perfect, and it is comfortable. Although it isn't as trendy as it usually was in those days, this makes it the ideal gift for a grandfather because, in his youthful days, he probably rocked it.
What makes this gift unique is the inscription behind it; "to my grandpa, I love you forever, best grandpa ever, I hope you believe in yourself as much as I believe in you."
It is easy to adjust, with its unique roman numeral design. It is simple but delicacy—an excellent vintage gift for grand pops.
Wrapping it Up on Gifts For Grandpa
Like we promised, gift number sixteen is in this link. You know, we at Make It Special Gift focus on Quality over Quantity. Our list might be short, but our gifts are unique. Pick from this list or check out other gifts to choose from this link.
With our adequately researched gift guide, you sure can have the best Christmas gift for your grandpa now. Thank you for stopping by.