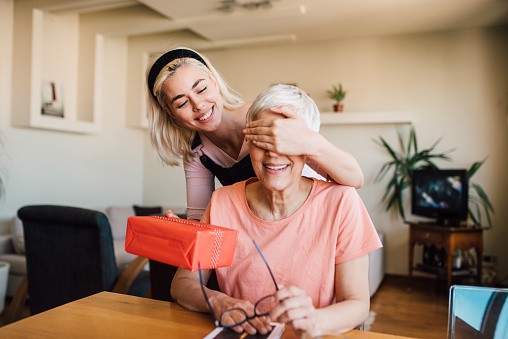 Mothers would accept absolutely anything from us as gifts; they make it difficult because they'll appreciate giving the gifts than receiving; they often hit us with "Nothing" when asked what they'll want for Christmas, Birthday, etc. Although you can collaborate with your siblings to get her something but trust me, getting her one yourself is impeccable. So, check out our fantastic gifts for mom from daughter.
Gifts for mom from daughter
We'll start with this trinket plate. Getting gifts for mom doesn't entail overspending; it's the message behind the gift that matters.
Although your darling mom can have her rinks, necklace, bangles, keys, and pretty much many things here, the excellent part of the plate is the message that constantly reminds her that you love her – and this is what matters.
If mom enjoys spending her "me" time reading, then the Kindle Paperwhite is something you should get her ASAP. This item is the tiniest, lightest, and brightest Kindle paperwhite available.
In addition, it has a remarkable storage capacity; all this translates to the fact that your mom would never run out of what to read. Here are some thoughtful gifts for a mum who doesn't want anything.
There aren't many people who would turn down a pajama, and your mom is certainly not one of them. So one Mother-daughter gift you can get from Amazon is this excellent pajama set. It is 100% polyester, has two pockets in front, and would offer mom comfort and warmth.
This item gives you the room to share pictures and videos from miles away. Let's say you are going on an adventure, maybe an excursion; with this digital frame, you can keep mom posted of your activities which I know she'll love to see.
A pair of Tasman slippers might cut it. They are made from genuine sheep and lamb fur; this material makes them pretty comfortable and cozy. It also contains leather and textile; mom would surely enjoy walking in these comfy slippers.
If mom is also a grandmother, then this item is good for her. Celebrate the infinite bond between grandmother, mother, daughter, and granddaughter with these three infinity circles. Let her know you are always connected, just like these interlocking circles. She'll have a reminder of her strength and that you are forever there for her.
This case is for iPhone 12 Pro Max, but digging around this item page would offer you other phone models. One type of item I fancy as a gift is items that the receiver would use daily, and this phone case does that.
If you own or use a bed with multiple pillows, you'll understand the definition of comfort. These pillows for sleeping are filled with superior 3D plush fiber, which ensures luxurious softness. As a result, your mom will feel comfortable and cozy, like sleeping on a cloud.
Even if we add all our "Thank yous," we can't thank our mom enough; nevertheless, we won't stop saying thanks, and this scented candle can help. These scented candles have a 60 – 80 hours burn time and are made with natural soy wax blend. In addition, it has a "Thank You, Mom" inscription on it, so while mum enjoys the fabulous scents, she can feel happier knowing you are grateful for what she's done for you so far.
A bangle and wristwatch are gift items that are perfect for a mom from her daughter.
These sheet masks are used to show the skin some good love; it contains different ingredients, all targeting other parts of the skin; it would help freshen up your mom's skin; I suggest you get one for yourself too.
12. Custom Mother Daughter Art
For something shy of $20, this is an ideal cheap birthday gift for mom from daughter but would leave a lasting impression. All you have to do here is discuss with the brains behind this item, instructing them on what you'll want.
If you feel she needs an upgrade to her makeup desk, then she does. This makeup desk contains enough room for her accessories and is comfortable enough alongside offering different tools she'll need to make herself up. With this item, mom can get herself ready for a date night, work, church, night ritual, and much more.
What do you love about your mom? Hold on, don't tell me, get this fill-in-the-blank gift journal and pour out everything. Then, while you two still have each other, you should consider telling her everything you love about her. She can read this during her private time or before she goes to bed.
The Cocktail Garden offers cocktail recipes focused on the flavors and produce found throughout the seasons, all stunningly illustrated by internationally-renowned artist Adriana Picker. From summery raspberries and rich figs to citrus and white peaches, apples and pineapples, and infusions using a riot of herbs – basil and thyme, to sage and lavender and other flavors found in the garden.
If you believe mom deserves an excellent night's rest, then get her this cooling eye mask. Your mom can use this mask to create an ice pack; it is excellent for relieving puffy eyes, dark circles, headaches, migraines, tired eyes, or as a heating eye pad to reduce swelling, dry eyes.
Another unique gift for your mom could be this hand-sculpted mother and daughter willow tree. You can find a message of love and friendship in it. Mom can display it at incredible places like her table, office, dining room, and many other sites, it is beautiful and elegant.
The BeautyBio GloPRO Bundle includes the GloPRO tool and four attachment heads: face, eye, lip, and body. It is a facial tool designed for every skin. Mom would make use of it after cleansing and before applying skincare. She needs to glide it over her skin for 1 minute, three times a week, and get excellent results.
No more complaints of her coffee losing that temperature she loves. For up to 1 hour 30 minutes, this temperature control mug can keep mom's coffee or drink at the exact temperature she wants it. It comes with a mobile phone feature; she can control the temperature from its app.
With only 0.18 inches thick, these six receivers can be attached to keys, TV remote controllers, mobile phones, wallets, pets, luggage, and more. So mom wouldn't have problems finding her properties again.
Although many of our mobile phones can give us top-notch pictures, most of our parents still fancy the old conventional way of taking pictures. This Kodak FZ53-BK camera is equipped with 16MP and a 5X optic zoom. With this item, mom can take excellent pictures.
Weighted blankets are known to help solve some sleeping issues. They help relax the body while giving both adults and kids a fantastic night (day) rest. In addition, its fabric's superior breathability makes it ideal for bedding all year round.
While we have an article on gifts for planters, we can leave out these succulent plants pots for mom, especially if she loves plants. Besides being a useful gift for mom, it also has a "Best Mom Ever" write-up spread across the three unique pots. So while holding her plants, mom would constantly be reminded by the day that she's the best at this "mommy job."
While this isn't a weighted blanket, it is a sentimental (gift) blanket for mom. It has an excellent message on it that reads, "To my mom, I am because you are so much of me is made from what I learned from you. It doesn't matter how far I go in life, I will always be your little girl…."
Dressed in dreamy hues of pink, yellow, green, and more, this Flower Market kettle will have your mom smiling all day long. With a wooden handle and lovely glass topper, this stovetop teapot is dressed to the nines. Remember—pinkies out!