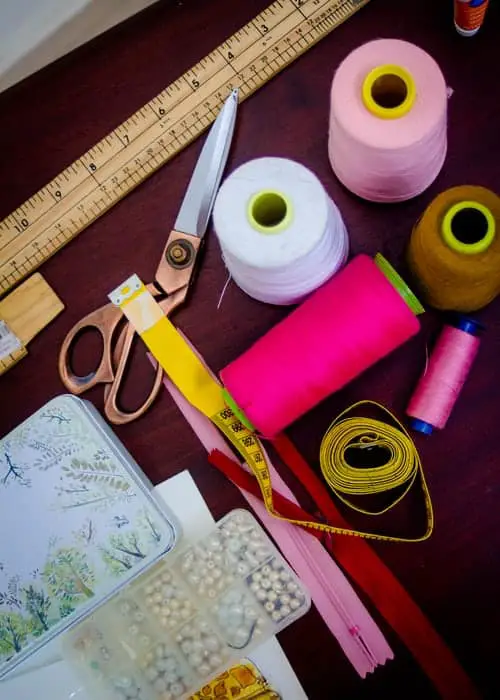 Getting gifts based on interest is one plausible move, so I sure understand why you pick gifts for quilters in your life. For some, quilting is more than a profession; for most, it is a hobby; for others, it is a passion. My grandma is an example of a passionate quilter, so I know what they love.

When getting gifts based on profession, I always advise that you go for practical and useful items; you don't have to break the bank when picking an item. Without much ado, please go through my list and check out unique gifts for sewers and quilters.

I can attest to how difficult it is to get the light to be precisely where you want it. Most quilters have to hold the torch with their lips or take some strenuous posture to get proper lighting, but here comes this neck light; your favorite quilter will have more control over her vision.

This neck light is made of high-quality rubber silicone, giving it durable and flexible arms, making it easy for the quilter to choose the best angle to meet their various needs.

It takes about 3 hours to charge fully and can give about 10 hours of steady light on bright settings and 20 on dim settings so your quilter friend can sew all night. It's quite a cheap gift for quilters.

You can help the quilter arrange all her accessories and tool in one place; with this, all she needs is within arm's reach. This art tote bag includes 17 storage pockets for scrapbook, crafting & more; it is quite durable as it features polyester material. Aside from her using it at home, it features as a good travel companion too, as it has a great reinforced handle for traveling.

These hooks are clear, so they barely show if the Design Wall is down. The design wall is gridded, so it's easy to align your blocks and estimate your quilt size. The design wall surface holds the fabric very well – even holding up the entire 61″ x 69″ jelly roll quit for more than two days.

If you don't have a place to hang it, you can put it on your bed, lay out your blocks (ever done that?), and then roll it up the design wall with the blocks to get it out of the way.

It is quite tedious unwinding threads, and every quilter has had to deal with this and can attest to how annoying it is. If your favorite quilter has one of these, she will be free of that menace. This thread spool hugger is made of high-quality silicone, flexible, sturdy, durable, and reusable for a lifetime.

It makes for a cool clamp around spools of thread and removes from the spools, and these little thread spool huggers are very helpful to keep the tails of a quilter's thread from unraveling when not be used. It has been proven to be suitable for most home embroidery and sewing machine thread spools.

Losing pin is not what any quilter likes to deal with, but it's something that can't be easily avoided unless, of course, you get them this magnetic organizer. It holds a ton of pins, super magnetic, and if you drop the pins point down, they will arrange themselves with the heads out. It's pretty heavy, so it's not going to slide around on your table. This is an awesome quilting novelty gift.

It is an excellent tool for cutting strips, borders, straight, bias bindings, and more. It easily holds up to 8 layers of fabric motionless, allowing them to cut.  They can quickly smooth fabric after placing it on the cutting mat with a single swipe of the slide lock.

Regardless of the color or type of fabric used, when she places the slide lock on her fabric, a well-lit, clearly defined cutting guide edge appears. It is a thoughtful gift

for quilters who may not see as clearly as they once did because it highlights all fabric colors, prints, and shades. It is one unusual sewing gifts that will bring smiles to a quilter's face.

No need to say much here, but what's a seamstress without her scissors? This is a perfect item for a quilter's gift basket. Raking in over 5000 positive reviews, this shears is ideal for cutting patterns, trimming seams, or cutting long swaths of fabric.

These versatile shears feature long, precision-ground, knife-edge blades that easily cut multiple layers of fabric, all the way to the tip. A double-plated chrome-over-nickel blade finish is both striking and durable, and the bent-handle design helps hold fabric flat on a tabletop or counter for smooth, comfortable, mistake-free cutting.

Many quilters have injured themselves while working, especially when their rotary cutter slipped over the guide. Reviews on this items page can attest to how lovely and useful it is; it makes the job quite easy. Due to how effective and rear it is, it's one unique gift

for sewers, plus its telephone shape makes it more appealing.

It isn't easy to get heat to a particular section or part of a fabric, but with this mini iron, your loving quilter will not face this challenge again. It is a compact, lightweight iron that offers multiple temperature settings for various fabric types and its easy-glide xylan coated soleplate.

This iron is ideal for pressing small and delicate pieces. With a fusible bias tape, it is excellent for Celtic quilting, Stained glass quilting, and Applique handicraft. I'll count this as an unusual sewing gift.

If you need a gift for quilters under $10, then this sewing clip got you covered. Add this resourceful item to your sewing gift basket. It contains about 100pcs of colorful sewing clips, which more than enough for a busy day in a quilter life.

When it comes to gripping, no sewing clip comes close to this, as it is made of premium metal supply strong & lasting force, while the clip mouth comes with little dot supply bigger friction and open up to hold projects tightly and keep everything in place.

Let's add a little humor to my gift list. For most, this isn't necessary but for that quilter who has to deal with, let's say her grandkids, then yeah! This item is perfect. It's a funny gift for quilter but still communicates a message of "Please, go away, I am Quilting."

Aside from the sign above, you can also decorate the quilter's workspace with this beautiful ornamental. It is the carving of an Angel sewing from quality material, which could add a little beauty to her environment. Every time she steals a glance at this handmade quilter's gift, you sure will pop into her heart.

Part of the quilting job description has drawing/planning in it. With this erasable pen, she can make color-code marks to indicate different stitches or thread colors. With various color options at hand, she can make other color markings on her cloth. It includes red, white, blue, and black gel pens for all of her needlecraft projects.

Most quilters are used to tailor chalk, which offers a bit of stress when cleaning, but with this erasable pen, all they will need is a sufficient amount of heat, and the color is gone. It's one of the best gifts for quilters as they can't complete a project without painting.

For a hundred bucks, you can get this practical gift for your favorite quilter. Numbness and pain are often felt in the foot when a quilter maintains a particular position for long so that this foot massager will mean so much to them. It is equipped with a rotation ball, rolling stick, heating, and offers a deep kneading Shiatsu foot massage. It can feature as a we-gift as both you and your quilter relative can use it.

You can make your favorite quilter go fully equipped with this ceramic teapot. This stunning 4-cup teapot results from a creative collaboration between ceramic designer David Birch and fabric artist Kaffe Fassett.

What makes it a novelty gift for quilters is its attractive design, which somehow fits into a quilter's world. Includes a stainless steel oval filter with a unique interlocking tray to hold the filter when the tea has brewed.
Wrapping It up on Gifts for Quilters
You can also secretly check to see what they are missing before you go shopping. However, a few items here are more decorative than useful; I'll suggest you go for practical gifts a quilter will use at least 70% of the time they enjoy their hobby. Thank you for stopping by, do have an excellent gift shopping.