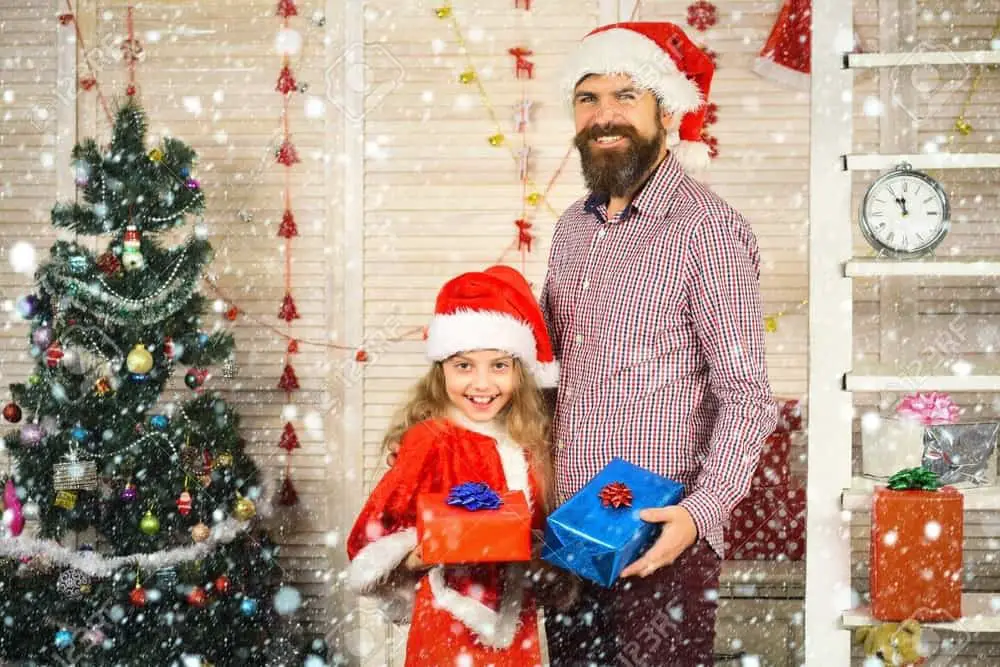 He is like a father to you; the only difference is he doesn't raise his voice at you. You can often count on him for a joke or two or a piece of advice at random. Growing up with my uncle, I sure know how interesting uncles can be.
If you are lucky to have an uncle, you should show appreciation, especially during the holidays like this one. In this article, we have documented the top 15 most perfect Christmas gifts for uncles from Nieces.
If you are one of those lucky girls to have an awesome Niece? Then this right here is for you.  Please remember, you don't have to break the bank to get a gift for your uncle, he probably won't want you to do that; give him something from your heart; that's what matters. Get gifts for older men from here.
First, we have this simple yet beautiful gift. Its design is printed on Artist Matte Canvas on a hand-stretched wooden frame. It has words on it like strong-willed, amazing, brave, loyal, fantastic, strong, clever, and much more. Your uncle will find this amazing. I think every niece should get this for their favorite uncle.
You can get your uncle this body fitted shirt. The inscription on it reads, "Funcle; similar to a dad, but only cooler and better looking." I bet every time he comes visiting, he will put on this shirt. It's a classic, and it will make him happy.
The shirt itself is classic; it is made from cotton, making it soft and nice. The humor on it is quite fun, making it an awesome gift for not just your loving uncle but your dad too.
Does your uncle love drinking beer? How about you get this gift for him? The beer glass here was crafted in Italy by master glass bowers. It is high-quality, lead-free, and durable.
Drinking beer will be more interesting for your uncle because his favorite niece got him his beer glass. This tankard glass is large enough to hold a substantial amount of beer.
Does he fix your stuff for you? How often does he do this? How about you get this gift for him?  Inscribed on this keychain is "if uncle can't fix it, no one can," if you agree to this, then get it for him. Show love and appreciate him with this.
It is eco-friendly and made of stainless steel, which is recyclable; it is anti-fade and anti-rust. Your uncle will have this key chain with him for a long; you sure will always be in his memory.
Printed on the most delicate ceramic ever is the "My favorite niece gave me this mug" inscription. Yes, you are his favorite niece, remind him of this daily with this well-crafted mug.
He can have it in his microwave and wash it in his dishwasher, and in both cases, it will come out clean and strong. It comes well packaged to ensure it is delivered without any damage.
Over his years, he likely will try different beer brands; some maybe with friends, others with coworkers, etc.; often, they are unique memories attached, getting your uncle this beer cap will be excellent.
With over 60 beer cap hole, your uncle can preserve his fondest memories by storing all his beer covers here. The map is divided into the states in the US and is made of a 1/4 inch thick plywood sheet. Every time he pops a beer cap into this bottle cap holder, he will surely remember his lovely niece.
Get your uncle this classic bathrobe. It is made of cotton on both sides, making it absorbent and gentle. With the loops inside, it will absorb moisture on his body.
It comes with patch pockets so your uncle can keep his items. It is multipurpose; it will go well in his room, house, or when he goes swimming with the boys.
There are more uncles than there are parents, more nieces, then there are daughters; in other words, your uncle needs to learn how to treat you. From how to change the diapers to how to play your Nintendo game, this book will prepare your uncle for the "best uncle" tag.
He can have over 15 key tools for grilling all in this pack. It will give him a spatula, silicone basting brush, five skewers, and much more. The spatula is one of its kind as it comes with a built-in opener, and it is easy to flip and cut meat with it.
The tongs are designed to grab, flip, and serve food easily. Everything he will need to grill is in this set, put a smile on his face with this cool Christmas gift.
Is he a big fan of music? Does he love loud sounds?  How about you get him this wireless Bluetooth speaker? It is waterproof and has 10 hours of playtime. He can integrate it into his smartphone and enjoy quality music with it. Find out his favorite color and pick from the available colors there.
It goes down as a funny gift for your uncle. Get this for him as a gag gift and watch him burst into laughter. He can prank the living hell of people he meets outside; the designers took their time to design it; it will take a closer look to realize it isn't real. Apart from being funny, it also comes off as a useful Christmas gift for not only your uncle but any man in your life.
Is he a fan of football? Then get this gift for him. It is somehow funny and will drag attention to him mostly when he uses it in a live football game.
It is a useful gift because it does what it was made for; cook. Among its special features are a cool touch exterior, convenient in-line switch, and a removable stoneware. It goes down as one of those hilarious Christmas gifts for uncles from nieces.
Make his cooking career easy with this dual sandwich maker. In four easy steps, your uncle will have his sandwich ready in five minutes. If he has a roommate or a visitor often drops by, he can prepare two sandwiches at the same time.
With Hamilton's breakfast maker recipe book, he can prepare a low carb or protein pack sandwich. It makes for a perfect gift for uncles, especially those who stay alone.
Is his fridge saturated with drinks? Then get him this magnetic bottle hanger. With this, he can make room for other contains in his fridge. This gift is unique and one of a kind; your uncle will for sure appreciate this.
If you need a luxurious gift for your uncle, the Bulova dress watch has you covered. Going for a high sum, you can get your uncle this classic wristwatch. It is water-resistant, making it suitable for various marine activities.
Wrapping It Up On Christmas Gifts For Uncles
It isn't challenging to get a gift for your uncle; all that matters is the love and happiness attached to the present. On our gift guide, we seldom dove into expensive things; everything here is affordable and durable. Your uncle will love anything you get for him here. Thank you for stopping by.