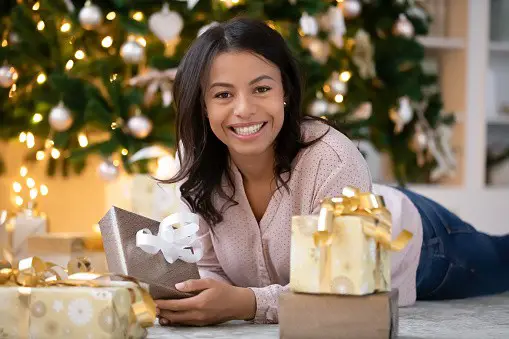 The '30s are somewhat stable for many women, especially the late '30s. So, getting gifts for women in their 30s is difficult as she often has everything she needs already. Typically, when it comes to getting gifts, we often advise you to be unique, thoughtful, personal, or sentimental. Based on this principle, go below to see our collection of unique gift ideas for women.
Gifts for women in their 30s
When it comes to presents for women, you often cannot miss out on bath bombs, especially bath bombs. These bath bombs are infused with natural and essential oils giving them a unique scent. It is also a source of stress and anxiety relief; its aromatherapy scent does that.
It may seem unlikely, but at 30+, most ladies have a lot going on that may see them miss out on tiny details like where they left their car keys, etc. With this Apple AirTag, they can easily find these items with ease. Furthermore, they can track these items with their mobile app or by asking Siri.
How about getting her this assorted comfortable, high-quality cardigan? It is designed to keep them warm in the cold weather to have it both at home and when they step out. All you have to do is find out their favorite colors then buy accordingly.
Another apparel to consider is the Kimono robes. It is, should I say, a multi-robe? It can be wrapped mid-calf length, in the waist front tie, waist cap, and in other ways. This kimono robe would be perfect after she has her bath.
Unless she tells you or you try this out yourself, you won't have an idea of how well you'll be helping her. This silk pillow is made from mulberry silk; now, it has proteins making it an anti-aging material while also preventing acne and wrinkles. Other benefits are left for her to enjoy.
For many of us, coffee is an integral part of our day, and getting an excellent coffee machine such as this would go a long way. Its water reservoir is enough to brew at least 5 cups of coffee; it works silently, minimizing noise.
If you perceive her to be pretty neat, then this gift is ideal for her. With this docking station, she can adequately arrange her glasses, keys, rings while charging her device. This item is also soundproof; it is laced with aramid fiber, protecting it from wearing and tearing and reducing noise when something is placed in it.
A massage gun should be in everyone's life. If you have a workaholic as a friend, get her this; if she frequents the gym, get her this. This deep tissue therapeutic percussion massage gun can relieve muscle spasms, reduce and prevent muscle atrophy and increase blood circulation.
You can get this on its own or add it to a gift box for her. I'll place this as an ideal birthday gift for a 30-year-old woman – You can't miss out on a box of chocolate!
If she hits the road frequently, then get her this travel makeup bag. It isn't bulky; its sizing is quite decent. She can easily fit her toiletries, skin products, cream, etc. It is partitioned for different accessories; for example, her makeup brush gets its own space, so no more dust threats.
Is she a handywoman or a part-time artist? Then get her this heat press machine (see our gifts for artists here). It is easy to take on any heat-transfer vinyl or sublimation project that comes her way.
There's no missing out with a good pair of Apple AirPods. Excellent noise cancellation, transparency mode, sweat and water resistance, and so much more.
This Amazon Fire 65 inches' TV is the perfect luxury gift for a 30-year-old woman. With this 4K Ultra HD product, your favorite 30+ woman can enjoy quality TV time; it would bring whatever she's seeing to life. In addition, it's a pretty smart TV, with its built-in microphones, she can communicate with her TV.
This is one unique non-detachable oval brush design for smoothing the hair while the round edges create volume. They were designed with Nylon Pin & Tufted Bristles for detangling, improved volume, and control.
If you need an inexpensive gift for the woman who has everything, then go with this. But, yeah, you gotta "talk thirty to her." Suppose you know what we mean! Also, I'll term this an ideal gift for a hard to buy for female
A fabulous line-up of some of the very best that Jo Malone has to offer, this collection of some of their most loved colognes arranges neatly in a cute little box to make something uniquely yours. She can go to work every day with a different scent.
17. Tea Sets
This package contains six teacups, saucers, and tablespoons; in other words, your favorite 30+ lady can have quality time when preparing her tea. In addition, this tea set is made with a royal design; it would add style and class to her home.
Was she probably born around 1991? If yes, then get her this design. This decoration contains many topics to start a conversation; she can have it in her cave, her workspace, etc.
Release her of a truckload of stress by getting this automatic pot-stirrer; now, she can go outside for a quick breath of fresh air without being scared of her meal getting burned; this automatic device can be configured to stir her meals at specific intervals.
There's almost no lady that doesn't look good in a nice pair of Chelsea boots, and your favorite 30+ old friend or relative is no exception; try getting her this and see how elegant she'll look.
An ideal gift list for a lady is not complete if we don't include a wristwatch, but unlike what you a probably used to, this is one excellent time-telling piece. This Scandinavian watch costs quite a buck, but it is a high-quality item with scratch resistance. She'll surely love it.