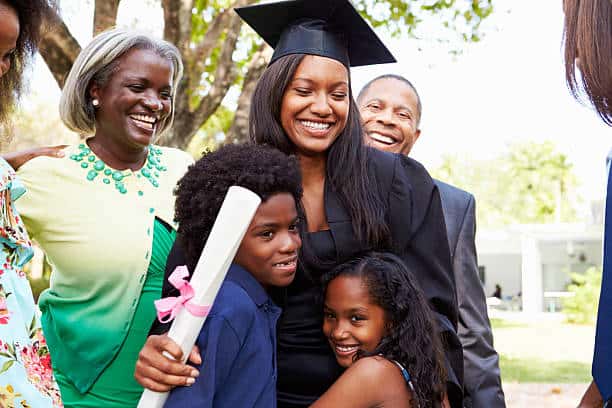 Last Updated on
Some of us are blessed with parents who consider schooling a critical part of our lives and don't mind going back to school or just going to school irrespective of age. Others are at the peak of their educational pursuit and are recently done with their master's, Ph.D., or a new degree; if you are blessed with any of such parents, these are some awesome graduation gifts for parents.
All Graduation Gifts for Adults
An ideal graduation gift for your mum would be this engraved graduation photo. You need to get a picture of her in her graduation clothes, send it to the hands behind this, and you have a fantastic gift ready.
It is made of high-quality glass, clear, has no bubbles or distortions, and is free from impurities. The image is etched in the middle of the glass by advanced laser engraving technology; it won't corrode or fade.
You can congratulate her for going in the direction of her dream with this beautiful golden necklace. It contains some motivational words, and these words would mean a lot to your mom.
Plus, this necklace comes in a beautiful box, making it an even more awesome gift for her. She will love it and can put it on when she steps out, especially around the graduation period. Here are some gift ideas for a doctoral graduate.
You can also celebrate the year she graduated by getting her this engraved glass. These words "Behind you all your memories, before you all you need,
around you all you need, within you, all who love you" are engraved on it, too; this is one excellent keepsake and a great graduation gift for dad; he'll have this for a long.
The words "She believed she could, so she did" are some excellent words that would mean a lot to your mum on her graduation.
This item comes in a good box worthy of being called a gift box. It also has a lovely gold spoon and a marble texture mug coaster.
This wooden organizer would come in handy as he moves forward. With this engraved desk, he can have his work or study table well organized.
This item gives room for wrist watches, mobile devices, keys, rings, eyeglasses, and much more. It is the perfect graduation gift for adults.
One of the best ways to congratulate your parent on their graduation is by writing a letter. While you can do this via your email or social media, it is best if you put pen to paper and write something. This package is a box of up to 45 papers and good envelopes perfect for sending to your parent.
This zippered portfolio is made of premium leather and is one of the best graduation gifts for any man. With this, he'll show up to a business presentation, interview, project, etc., in a professional way.
It is difficult to ignore someone who shows up with this portfolio. This padfolio has many pockets, pen slots, a writing pad holder, laptop pocket, business card slots, and more.
A cool parents' grad gift would be a bookend. When picking a bookend, go for something related to their interest, hobby, favorite TV show, pet, etc.
The bookends here are quality; they are durable and would stand the test of time. Bookends of this nature typically help keep things organized, and your parent would love this.
A journal is a fantastic gift for a parent after they graduate. This journal appears rugged but also has a soft feel. It is one perfect travel buddy and something your parent can use for a long time.
This is the perfect journal to be given as a gift, and it comes with three notebooks, a vintage bookmark, and a pen and its case. Their ideas, quotes, and to-do lists will all be featured in this journal.
If they had kept off so many books so they focus on their education, or if they plan on reading, researching, and writing a truckload of things, then Kindle is an ideal gift.
With this Kindle version, your parent would get an 8GB storage device with enough room to hold many titles. Reading would be possible at any time of the day.
You can celebrate your parent's graduation with this frame too. Get their picture, select their favorite color and place your order.
You can probably attest to how much they put into their school work, the late nights, the research, the baggy eyes, hours in front of their laptop screens, and much more.
These bath bombs are perfect for your parent, who gets to relax with this, especially on that graduation n; they deserve this.
Customize these tumblers with your parent's name, and don't forget to include their new title. This tumbler is the perfect travel buddy, and they'll love this too. They are double wall insulated, guaranteeing that drinks would remain hot for a while and cold for a while.
This is a unique gift for your parent on their graduation; tell them congrats in style by grabbing this "well-wishing" bottle.
It features a figure throwing a graduation hat up, and this is something your parent may not have fancied doing well; this keepsake/decor does the job for them.
With an engraved pen recognizing this massive fit, they've achieved a simple graduation gift for any adult. This high-quality pen is refillable and comes in a beautiful case.
A graduation gift box gives you three lines to congratulate your parents on this massive achievement.
Metal edge detailing on the hinged lid, round ball feet, and a chain on the inside that supports the top when available add to this unique keepsake box's vintage charm and style.
This blanket would put a smile on their faces; a blanket of this nature gives you room to customize it by including their photos. I suggest you go for photos that are in one way or the other related to their education. This is the perfect graduation gift for winter.
Wrapping up on Graduation Gifts for Parents
Some awesome graduation gifts for parents include a customizable pen, photo frame, jewelry box, and blanket. Others are grad mugs, bookends, bath bombs, etc. Getting your parents gifts is an excellent way of congratulating them for this great fit they've achieved.
--->> Final Gift Suggestion <<---
Still can't find what to get for that extraordinary person in your life? Check here; you might find something exceptionally interesting!!!