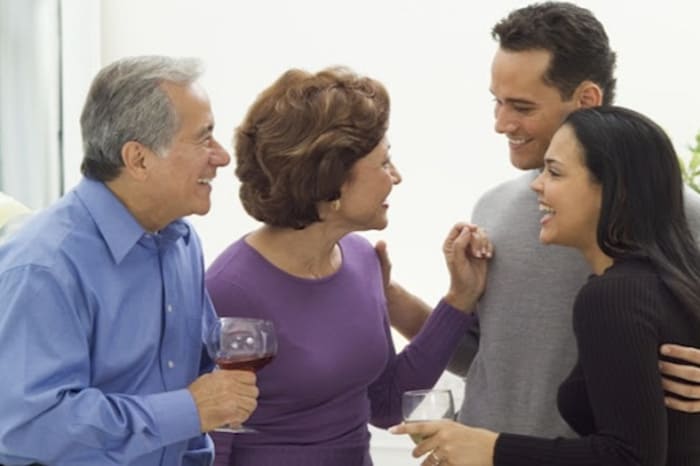 Our in-laws are both our friends and family, not all of us have an awesome relationship with our in-laws, but most of us do. When it comes to getting them gifts, it is somewhat of a tin line between overspending and overbuying. Typically, I'll advise you to get gifts for your in-laws based on your relationship with them. Nevertheless, from your father-in-law, mother-in-law, and brother-in-law these are some awesome gifts for your in-laws.
Best Gifts for Your In-Laws
You can't properly measure how much work or stress they deal with within the day, but you can help reduce the pain and problems the pain leaves back with this lower back massager.
Its heating function provides a soothing and refreshing heat that delivers a warm and gentle massage. It will leave your in-law's muscles relaxed while getting rid of all aches and fatigue.
The act of gift-giving is one of the best ways to express how much someone means to you and this engraved bracelet helps you express that. Tell your in-laws "thank you" for welcoming you into their family by grabbing this bracelet. It is a perfect gif for your mother-in-law.
With this gift, your in-laws wouldn't have difficulty finding their glasses after reading or when they are back from work.
The stand is made of durable polyresin material that is not harmful. The eyeglass holder and the standing pawn retainers will not easily break eyeglasses when accidentally tripped
This will be a special gift for an in-law who loves visiting the kitchen. The holiday season, especially Christmas, will attract a lot of cooking since it's often the case that almost everyone would be visiting. Add to their kitchen collection with this kitchen basket.
This travel bag is perfect for that in-law who is often on the road. It features a good amount of compartments making it the best travel partner.
It is a thoughtful and practical gift for anybody, especially your mother-in-law. If you have in-laws who frequent the garden and enjoy spending time there, then this is a perfect item to have around.
This item helps reduce complains and pains due to constant bending. The issue of dirty clothes due to time spent in the garden would be a thing of the past with this.
This indoor garden germination kit is designed with a water circulation system, increasing the oxygen in the water. Growing in nutrient water faster than soil. They will have total control over the weather all year round.
A Pizza maker and toaster oven are other awesome items your in-laws would love to have around. This would take away the hours it takes for the delivery guy to arrive, it is one durable household item too with various features to make one's life more awesome.
This hot air fryer can make french fries, onion rings, chicken strips, roast vegetables, pizzas, cookies, biscuits, fish, mozzarella sticks, pork, corn dogs, prawns, broccoli, and many others with better taste. With this, your in-laws would always have something edible around.
A whiskey decanter is another awesome item to have as a household item. It would sit pretty at your in-law's mini bar.
No need for the cords or the big headset; with these wireless earbuds, your in-laws can listen to quality music with ease. With its waterproof feature, they can use these earbuds for rigorous activities like sports or exercise in the gym.
Time spent around a good firepit would always remain quality and this fire pit does a great job.
For those in-laws who love playing games together. They will very much appreciate you for this scrabble game.
What are you waiting for if you have a wine enthusiast for an in-law, get them this gift. The wine cooler's freestanding countertop wine fridge includes contoured, polished chrome four wine racks & 1 bottom-standing rack to safely hold 15 bottles for secure chilling & storage. Perfect gift idea for any wine lover.
With the Fire TV Stick paired with the Echo Dot, you will be giving your in-law access to awesome entertainment from their TV or laptops.
All they need to do is ask Alexa to play and search for movies and TV shows, launch apps, and control playback from over 200 apps and channels on their Fire TV. It comes with instructions on how to use it.
To make every grilling experience one to savor we usually make use of some tools to make our bbq quality. This grilling kit contains over 15 awesome tools perfect for your in-laws, '
especially a father-in-law who loves filling. It has tools like a spatula, grill tongs, digital temperature fork, silicone basting brush, and much more.
Almost all families have a truckload of pictures, pictures contain memories, happy moments, important dates and so much more. This photo album contains about 50 pages perfect for your in-law.
If you have in-laws who are wine enthusiasts then they'll be fans of this.
This eyeglass cleaner is an efficient and durable ground-breaking carbon microfiber tech that cleans all glasses.
Wrapping It Up Gifts for Your In-Laws
Getting gifts generally isn't an obligation, but again, sharing and giving gifts is an act of kindness, love, and care, and no one doesn't want that, even The Grinch. Spice up their holiday or any special occasion by getting one of these gifts for your in-laws; thanks for stopping by, do have a great gift shopping.