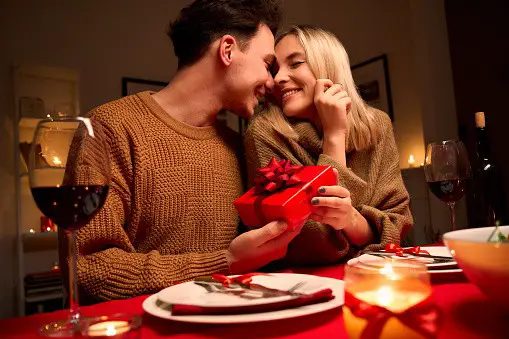 No matter how tough he may be, despite saying he wants nothing for Christmas, New Year, his birthday, etc., everyone expects a gift of some sort when it comes to valentine. While the traditional chocolate and Netflix and chill may get the job done, you could take things higher by getting one of these personalized valentine's gifts for him.
Personalized valentine's gifts for him
You can't leave a wristwatch when compiling a gift guide for men. However, this isn't any random wristwatch, and why it may not be the most expensive around the block, it is one stylish, unique piece with room to express your love. He'll always put this on with a smile on his face, remembering who got it for him. It is one non-cheesy valentine's day gift for him.
A journal is one thing everyone should have; you have no idea where that billion-dollar idea might hit you. If your partner is one person that has ideas overflowing, then this journal is perfect for him. This leather journal/notebook is made from soft & supple brown water buffalo leather with a natural leather scent. The brains behind this beauty give a leather page worth of space to put together words.
While the above gifts entail you writing words to express how you feel on the famous February 14th, this wallet takes things a bit higher. On this personalized men's wallet, you get the option to upload an image, and I'll suggest one that has both of you. You still get the chance to write a note, and this is one cheap valentine's gift.
Would you love another personalized gift that offers room for images or photos of you two? Then this "just because' gift would get the job done. This personalized keychain comes with an LED light feature that highlights the tiniest details of your custom engraving. He needs to push the button to watch your image come to life.
Men could be sometimes careless with how they keep their stuff *rolling-eyes. How about getting him this docking station? This docking station is compatible with all cell phones, including iPhone X, iPhone 8, iPhone 8 plus, all kinds of iPhones, and all Android phones. You get to write his name or a short message somewhere in it. I'll suggest you write both your name and his. Let's say you are Joan, and he is Steven = Stevan, lol.
He definitely would need a good leather travel bag for his toiletries if he's often on the road. Even if he doesn't travel often, this bag is ideal. It is vintage, elegant, and durable. It is one excellent val day gift for men.
He's your king, and you are his queen, how about representing that in a pendant. While you guys aren't married (I suppose), this pendant might be step one to that marriage.
Surprise your loved one with a simple yet very meaningful gift. Each Bead can be personalized with your unique message. It comes in a gift box, making it ready for the 14th day of February.
Although we have a list of gifts for gun lovers, for this val, you can still get him this shooting name art. The brains behind this item would use different gun parts or accessories to write your partner's name. I know he has already shot his shot, but this is one unique val day gift for him.
He can have this on his table, workstation, cave room, and office. This 3D photo breathes life into an image that is displayed in it. It's in the name, and the item would make the image move. I suggest you go for an image that has both of you!
Drinking fine spirits isn't an activity; it's an experience. And that experience requires the finest drinking accessories available. Personalized with the name of your choice, this custom whiskey decanter will be displayed with pride for years to come. Also, check out our gift list for bourbon lovers.
Customize this keychain with any image of your choice alongside a note to show how much love you have for him while also wishing every journey he takes brings him back safely to you, his love. It is one romantic valentine's day gift for him.
Often, getting a wallet for men may come off as a cliché; how about we follow another path and get him a wallet insert with a well-thought-out personalized message for him? Yeah, this engraved card gets the job done.
Where gifts may fail us, words never, so snatch this opportunity and get him a two-in-one gift. Here, you get empty pages to tell him different reasons you love him while also getting him an item.
I couldn't ignore this item. Click the link and get this gag gift for him; this should bring a good laugh to his face.