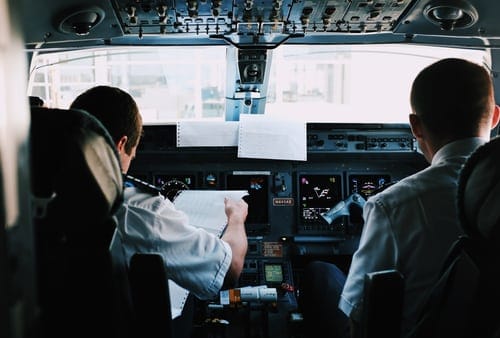 Yes, they are always "looking down on us (pun)" we both know we should get gifts for pilots in our lives. Getting presents for pilots is slightly different from getting gifts for PILOTS IN TRAINING, but one thing both share in common is their love for reaching the skies. '
It doesn't matter if this pilot is your dad, your husband; it also doesn't matter if the gift is for the Christmas holidays, Easter, a Birthday, an Anniversary, or their retirement; this gift guide has it all. So, if you have a professional pilot or an aviation enthusiast in your life, you can put a smile on their faces with items from here. How about getting one of these gifts for that drummer in your life.
A gift list that features professionals such as pilots isn't complete without adding a good wristwatch, but when you are dealing with those who have spent years mastering the art of air traveling, you shouldn't get any random wrist watch for them.
This is a watch made explicitly for pilots. It is a round watch with a black dial featuring a gear-edge bezel, multiple subdials, date windows, and a fluted crown. The SNA411 is a versatile and well-designed chronograph. It is well made, offers many excellent features, and is a luxury gift for pilots.
It has a 1-hour stopwatch with split function, alarm (or dual time), and a very functional, albeit hard to read, bezel for all types of unit conversions. Your pilot friend can also use the bezel as a slide rule for quick calculations, but it does take some practice; I'll call this a great pilot dad gift.
Not every cockpit can afford the space to carry a full expresso maker, but that shouldn't stop your dear pilot from having a cup of coffee at will. Instead of waiting for the flight to touch down before they lay their hands on this essential drink, you can make life easy for your favorite pilot by getting them this hand coffee maker.
Thanks to its innovative construction and easy operation, this coffee maker will help them brew perfect cups with a nice and dense crema layer every time. It is delightfully easy to operate and simple to use and requires 15% less force to pump than others. It is one of those gifts for pilots you can get on Amazon.
Does your favorite female pilot have these awesome glasses? If no, you should get this for them. There's almost no movie that features pilots that you can't find these glasses in; it is one gift for air force pilots. It features a metal frame plus a gradient lens. These non-polarized glasses also have a UV protection coating, so be rest assured that though your favorite lady pilot is a bit closer to the sun than you, its UV won't affect her.
I believe most cockpits have this equipment, but those small private planes seldom have this; you can change that for a pilot who frequently flies those types of planes. You won't be getting them a pilot themed gift that features just a weather station, but it's a set of a clock, hygrometer, and thermometer. They can mount it on their wall or their table; they will love this awesome item.
I don't know of many planes that have fridges or heaters on their cockpit; if your favorite pilot loves his or her drink at a certain temperature, then you should get this insulated water bottle for them. The double-wall insulation makes the Iron Flask sweat-free while keeping their drink cold for up to 24 hours and hot for 12 hours. This gift paired with the hand coffee maker above will be awesome, making it a practical gift for pilots.
Every pilot needs a headset; that is part of the job description. This headset is mono & stereo support with a built-in y-block switch on cable. It offers a premium noise reduction rating (nrr) of 24db for hearing protection and extra comfortable gel ear seals with a flexible boom mic.
Your favorite aviation enthusiast will be getting a headset that offers dual volume control on each ear cup with a compatible plug with their airplane and their phones. Its microphone is perfect; with it, your favorite pilot can communicate with the watchtower *winks. This item comes with a free carrying case so that they can go with it anywhere.
As busy people, they will have a lot on their plate; charging their phones often won't be one of them. Unlike cars and trucks, cockpits seldom have places for charging phones, so this 20100mAh power bank is perfect for them.
With the combination of its PowerIQ and VoltageBoost, it can deliver the fastest possible charge. With a 2mp charger, it will take them just 10 hours to fully charge this power bank, and in return, it can charge an iPhone 8 almost seven times. I believe this is a perfect gift for an airline captain.
If your favorite pilot also answers to "Dad" when you call him, then you should get him this awesome T-Shirt. This pilot dad gift is a machine wash T-shirt that he will appreciate. It's perfectly durable print reads "Dad. The Man. The Pilot. The Legend" if pops are all these, then get it for him; it is still perfect as a pilot gift for your father-in-law.
If you have a reading aviation enthusiast, then this book is perfect for them. I am no pilot, but I know I'll love to know the account of World War II's last mission, and this book can tell me that. Even days after America dropped the atomic bombs on Hiroshima on August 6 and Nagasaki on August 9, the pilots continued to fly. Though Japan had suffered unimaginable devastation, the emperor still refused to surrender… Just get this gift for them; they will tell you the whole story later.
If you can't get them a gift they can use on the cockpit or while they go about their daily activities, you can get them a pilot themed gift such as these coasters. They are well made, sturdy, and instruments that are also very realistic, and many pilots who have this can confirm that. Every time he wants to take a sip or have visitors around, they can use them; if he lives with you, this is a perfect we-gift for your household.
Another gift that will perfectly match the one above is this Airplane decanter. This beautifully built decanter model an airplane with a mouth-blown decanter and two airplane glasses. The Airplane model is reminiscent of old times, making it a vintage aviation gift and the wood base has an amber hue, which makes this a beautiful home piece.
The Antique Plane sits majestically on its movable wheels in the middle with style and grace. It is a great piece for vodka, liquor, whiskey, and more; this is one set that will make your favorite pilot stand out. This Etched globe decanter with a glass-blown airplane inside is a beautiful way to serve expensive alcohol.
How about you take them back to the difficult but glorious days that the American air force had to join in making the world a peaceful place? This jacket can do that. This piece of art is a combination of different materials that add up to create beauty.
It offers two dual entry pockets; Its Interior pocket and ribbed cuffs and hem to snug in warmth. This is a perfect gift for a pilot husband, especially if he is in the force; he will feel honored wearing something his comrades wore decades ago.
Female pilots will appreciate this item, both classes, fashionable, and tailored to their profession. For just a few bucks, you can get these inexpensive gifts for female pilots that will fit well on almost all outfits. Aside from its beauty, it also features a cool write-up that reads, "I have a dream, I can fly." They will love it.
Another gift for aviation lovers will be this set of 6 awesome airplane cufflinks. I assure you every time they step out with an outfit that needs cufflinks, they are going with this, and yeah! You will pop into their mind when they wear any of these.
Some more aviation gifts will be this Airplane night light. This is a lamp that gives a 3D effect. It will light up their room and could enable them to sleep well. Whenever they take pictures with this lamp, they sure will get many reactions and comments because the light is magnificent.
It can stay fixed on one single color or seven color flashing mode. It offers different light styles that make it more fun to play with. Its colors can be changed with a one-button operation. It gives seven colors and seven colors gradient a perfect gift for the night.
If you've made it this far, you'll understand why I started the topic like that. If you need a gift for pilots that will spark some humor, this mug is a perfect choice. The moment they unwrap it and read the "Pilots looking down on people since 1903," inscription, get ready for a good laugh. They can have this in their cockpit, table, office, kitchen, and anywhere; it is also a conversation starter and a practical gift.
In the world of vintage aviation gifts, only a few come close to this stoneware bookend. What we have is a creative airplane designed bookends with rustic accents and is made of a durable wood material and pewter finish. They can make their office presentable with this item; it is heavy and sturdy but has a unique feel when compared to other bookends out there.
This is a high-Quality fabric, durable and breathable material for anyone. It gives that ultimate soft and warm feel at a great value and keeps you comfortable all night. Aside from making the night lovely, when your pilot lover leaves their bed arranged, the beauty this bedding emits is unmatched.
This Bedding Set looks more vivid, realistic, and colorful. It will bring them that visual enjoyment and happy mood. Such a piece of gorgeous art will perfectly decorate their bedroom, and every time they use it, you will pop up in their hearts.
A full set of airplane paper clips might be the exact item they need; every aviation enthusiast will love this. It is made of metal and coated with BPA free plastic; it has a clear top to see the colorful pallets inside the box. A tin can hold 50 various color paper clips and is good looking to keep on their desk at all times. This is a great gift for pilots, flight attendants, or anyone in aviation.
Yes, because you are searching for gift items for them, it means you'll love them to be safe on every journey, and this inexpensive item can do that for them. This adorable "Safe Trip Wherever You Go" keychain is made of stainless steel. It is an extremely durable& a hypoallergenic metal that features an airplane making it one perfect gift for pilots.
Wrapping It up on Gifts for Pilots
It's that time of the year or that once in a year to show love to your favorite people, especially that pilot in your life. Although they are always busy, they will still and very much appreciate something from you, and this gift guide has the best gifts for any pilot.
You can get them the fantastic practical pilot wristwatch, or you settle for the aviation headset. If you feel they love reading, then the book recounting the last days of WWII will do whatever you decide for; your favorite aviation enthusiast will be happy you care about what they love. Thank you for stopping by; please have an excellent gift shopping.