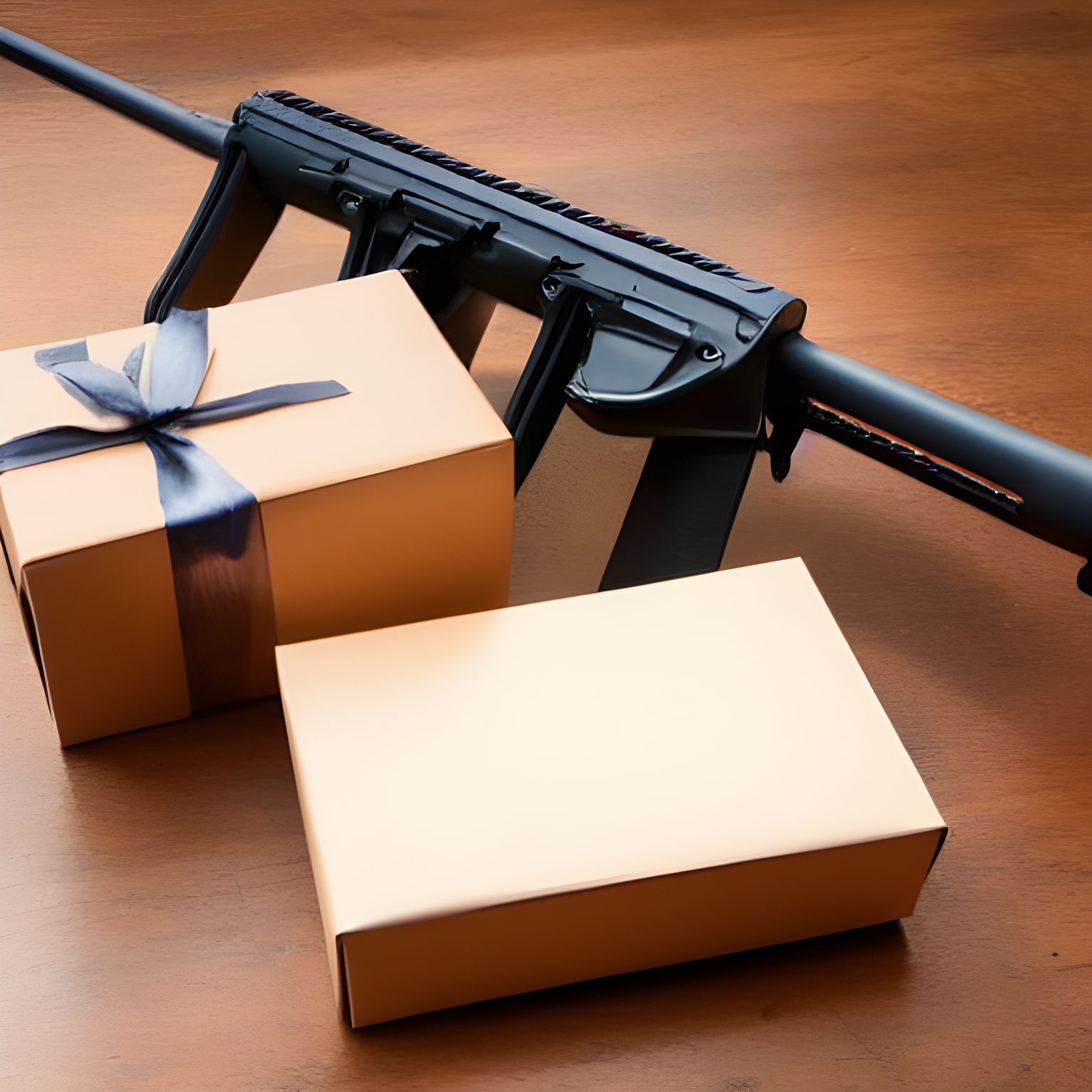 Last Updated on
Getting gifts for gun lovers is difficult; I mean, they have every accessory they need for their guns, and even if they don't, they are more likely to get the exact addition than you are but guess what? That wouldn't stop us from trying, there are still some fantastic gift ideas for the majority of the 390m+ guns in America, and this guide does a great job pointing that out.
Unique Gifts for Gun Lovers
[table id=31 /]
All Gifts for gun lovers
People who are often interested in guns also love stories, materials, etc., that teach them more about their favorite weapon.
With this book, your favorite gun enthusiast can discover the origin, design, range, and function of arms, including stone axes, swords, machine guns, and sniper rifles, and meet the warriors who wielded them.
Getting gun-themed gifts remains the best way to impress a gun lover since getting them a gun or its accessories is ruled out.
This whiskey gift box contains a special crystal whiskey glass, six stainless steel whiskey bullet stones, and much more. These would make every sip of their favorite whiskey one to savor.
Even those pushing for gun control should catch the humor in this T-shirt. Your favorite gun lover would burst out when you get this item. So you can kill two birds with this apparel by getting it as a gag gift for a gun lover.
Although it is best if the gun enthusiast purchases their gear themselves but still, this stocking is too cool to be left out.
Besides having the needed pockets for some of their gear, it is laced with the United States flag and is somewhat of a Christmas-themed item.
While practicing or being left untouched for a while or overused, certain screws may need some tightening; that's where this item comes in.
This 19-in-1 pistol tool can help them break down, tweak, accessorize and adjust their favorite handgun. It isn't healthy to use a gun whose screws haven't been touched, so get this for him.
Have you ever been to a shooting range? Well, I don't think you should go there without this to avoid damaging your ear – cause it's pretty loud in there.
So while most shooting range offers ear protection of some sort, it is ideal you get your darling gun enthusiast this item; it is a perfect gift for shooting lovers; I mean, their ear is on the line here.
Again, this is a gun-themed gift. This item comes in a box perfect for gifting. These cufflinks would ideally fit their corporate outfits; they are built to last. While on official business, he can show those around him that he is a proud gun lover.
I feel this coolness watching forces like SWAT enter a building with lights mounted on their guns. So while we aren't tasking your dear gun lover to go for vigilante jobs or do the work of the police, this tactical light is an excellent collection they'll appreciate.
This gun cleaning kit supplies all types of shotguns, rifles, and pistols. It contains everything they'll need to clean common-caliber guns in one case. It is an excellent choice for your gun lover to make cleaning work more accessible.
His shotgun shells coaster looks like the bottom of 12-gauge buckshot bullets. The coasters bullet country coaster holder is designed with a pattern resembling the shell's side.
So, with these, your favorite gun lover can design and decorate their man cave or cabin. You can throw this into your gun lover gift box. (Also, check out cabin gifts for dad.)
Yeah! I know it's for kids and all, but guess what? Most gun lovers generally love the idea of shooting, be it a real gun or an elite blaster such as this. With this, they can learn target practice without wasting any ammo.
Another excellent gun-themed gift is this gun lighter. This foldable gun-shaped lighter is made of zinc alloy + ABS with a multi-layer electroplating process. It is a refillable dual-flame designed item.
If the shooting range is far from home, you'll love to save costs and get this item to practice your shots. This item makes practicing fun; every shot that hits the target would burst a bright yellow, so they won't have to come to check if they got the shot right.
Gun-related gifts are pretty cool, and this gun parts print is one such. They can have this art in their man cave, private office, or wherever. Besides being a decoration item, it is also something they can learn from.
Ohhh! No, it isn't a gun; it is instead a gun-related gift also; the makers of this item are pretty awesome. Using gun parts and on-demand, you can have a wall art of your favorite gun lover's name. They'll surely love this item and place it at strategic points.
No more complaints of scattered shells or the stress of bending to pick shells, especially from multi-rounds automatic weapons; this shell catcher got them covered.
It is easy to install on any Picatinny rail handguard. This is an ideal gift for people who have guns.
I couldn't skip the urge to include this item; although it isn't a universal loader, it sure gets him to load their magazine at blazing speed. Also, while packing, they won't be stressed by manually pressing each round; it's an excellent piece.
Although we have a collection of gifts for puzzle lovers, this puzzle is especially for gun lovers. This 3D three-dimensional jigsaw puzzle is an old-school toy, a great gift, total fun for a gun enthusiast, an excellent project for children, and a good home decoration.
We have Glocks, Desert Eagles, Colt, and many excellent pistols; back then, we seldom had such effective guns, especially in the vast wild west; this art can take your dear gun enthusiast back the hands of time by displaying some awesome vintage guns and the process behind its mechanics.
While we already have a gun cleaning kit up there, this is another package in a bullet-like case, and I couldn't leave it out.
Like on CODM (Call of Duty Mobile) and many other games, gun lovers love designing their guns or adding skin to them. With this vinyl gun wrap, your favorite gun lover can beautify their baby.
All-Weather gun cases protect your firearms from damage and the elements. With rugged, industrial-strength construction and a continuous Dri-Loc Seal, All Weather cases create a watertight and airtight shield protecting your gun. But, as powerful as guns are, they still need to be protected *winks, so this is one gift for gun collectors.
Finally, a medical trauma kit. I pray your gun lover never needs this; however, wishes aren't horses, get this item for them; it should be on every gun lover's collection.
To avoid the gun from falling into the wrong hands, this fingerprint trigger lock would help with that. You should check out its features. This is one thoughtful gun gift idea.
Still on the line to secure their guns, this gun safe is a pretty sturdy item with different layers of security.
This is a pretty cool gun-themed gift. It's a pretty good shotgun decanter that would make his bar beautiful and spark interest from whoever sees it. It is a practical gift for men who like guns.
A gun light is ideal at night to keep the users vigilant and ready.
This is a tactical gun holster for gun lovers who carry it with their cars.
This isn't some random bottle opener, and this is carved to resemble a gun, making it the ideal gun-themed gift, especially for the man who loves drinking with style.
Whenever he needs to use his bottle opener, he wouldn't hesitate to bring out this bottle opener.
This holder is the ideal gift for that gun lover in an open-carry state or when he goes hunting. This would tightly secure his gun in one place.
The authors behind this book are pretty smart, and they passed a pretty strong and vital necessary message in this book in the form of you teaching your cat about not just gun safety but abstinence and many other things to help keep his nine life nine. This is a great help book for your dear gun lover.
Besides the obvious depiction of a revolver integrated with a mug, I still find this revolver pretty appealing.
It is an awesome mug, a fantastic gift to get your receiver. Every morning coffee sip from this mug would be an act to savor.
This is an awesome keepsake. It could serve as decor or something she can use to place her bullet.
This is the ideal map for cleaning guns, and I believe he already has a cleaning mat; however, I doubt he has one with instructions on how to assemble and disassemble his AR15. He would surely learn a thing or two from this mat, and there's a truckload of knowledge in this mat.
This could serve as a keepsake, paperweight, and a true practical office gift. His pens and some other stationary items would finally have a gun-themed resting place. This is one beautiful piece to have in his house.
"Money can't buy happiness, but it can buy guns which is the same thing" – Do you agree with this? Probably you may say no, but the gun lover begs to differ.
This is one crazy sign that celebrates every American's second amendment. I hope this sign never applies.
This t-shirt features a pun; give it a second read you might grab the joke.
Yes, it gives him room to arrange his revolver beautifully; however, it is still an incredible gift that would help keep his room or office a bit more organized.
Brushes, optical clothes, rods, and brass jags are a few of the cleaning tools present in this kit. With this kit, his gun would stay immaculately clean, reducing the possibility of rust and warning out screws. This is one perfect and thoughtful gift for gun lovers.
Wrapping it up on gun lovers' gifts
I saw crazy stats somewhere; guns have been used more defensively than accidents. The topic of "guns" is pretty sensitive, well, our job here was to suggest awesome gun gift ideas, and we believe we did a great job.