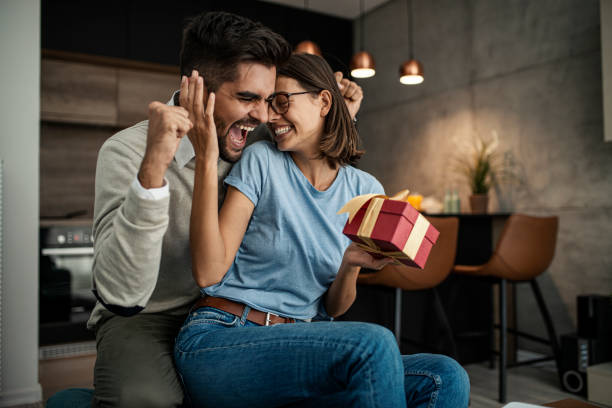 We've all been there, our budgets have often held us back from showing our significant other how much they mean to us. It is usually not about the budget; it may be the occasion or the season.
One thing is sure, and the best gifts are those that come from the heart; they don't have to be large or pretty pricey; your partner knows you pretty much and knows if the conditions were right, you'd have chased the rest of us out and given her the world.
While I'll suggest some awesome cheap gifts for your girlfriend, I need to remind you that those gifts that entail a bit of creativity on your part are some of the best gifts.
Yes, the thoughts are what matters; the act of gift-giving remains one of the best ways to show how much those who are dear to you mean to you, so let us see those gifts below. Meanwhile, I have some lovely cheap gifts for your boyfriend, and you could share this link with her.
Thoughtful Cheap Gifts for Your Girlfriend
This frame is the best gift for couples. A moving picture of both of you would make so much sense. For less than $20, you can have a picture in this frame, and it's something your dear girlfriend would have for a while and cherish for a long.
Your girlfriend would love to hear your voice occasionally as she goes about her busy day. While you may not always be around her to tell her those cute words, or you can't speak to her on the phone throughout the day, you can write some lovely comments and have them in these capsules.
Your girl gets to read them occasionally and be reminded of how much she means to you, and she will hear your voice in her head as she reads.
Tell your girlfriend you love her in morse code, and allow her to see the bracelet as something straightforward without any deeper meaning; after a while, you can tell her the translation and watch a smile spread across her face. For what it costs, this is one nice cheap gift for your girlfriend.
I've always been a proponent of getting practical gifts; I'm referring to those items your partner would often have on them, and this keychain serves that purpose perfectly – not to forget the cute words engraved on it. I'm guessing you do love her dut*.
You won't be around her every time, especially if it's a distance relationship, but this pillow can serve as her cuddle buddy until you are available to her again. This is the ideal lover's pillow. I also have some lovely sexual gifts for long-distance relationships.
A nice casual tote bag is one excellent cheap gift for your girl. This bag barely cost ten bucks, but it would end you tens of kisses as it is one beautiful tote bag.
A coffee mug is another practical gift your girl would give you almost daily. Of course, I believe she already has more than enough coffee mugs to spare; however, the inscription on this mug makes this unique; she'll love it, trust me, and I believe you do love her butt.
You probably recall her favorite song, or better still, a song you both have come to accept as your relationship's song; alternatively, a song you probably introduced to her.
With this plaque, you can comfortably engrave that song alongside a picture of you or her. This would be an adorable gift to her, something she'll love.
Since time immemorial, the Rose flower has always been a symbol of love, so getting your lover a preserved one in an accompanying beautiful box would be one romantic gesture.
With this vintage wind-up music box, you can take her back to the hands of time. She may have come across this box, at least on the TV screen, if she's a millennial at least.
This music box features quite some tunes and melodies, each of which is a perfect love tune for your dear girlfriend.
The words engraved on this scented candle are all you need to see; besides, the fragrance from this would help your girlfriend to relax, especially after having a busy day. This candle won't cost a fortune, making it a great cheap gift for your girlfriend.
A Ying and Yang adjustable bracelet is not just a gift for your girlfriend but for you too. You both can periodically be reminded that you "fit" each other just like the bracelet.
A nice hoodie blanket would keep your girl covered all through the night, especially during the winter, and this wearable blanket makes much more sense if you have a girlfriend that often tosses and turns at night; this blanket would stay glued to her body, keeping her covered all through the night.
I don't care how bad you are at cooking; as I stated initially, "it is the thought that matters." With this cookbook, you can prepare some pretty fabulous meals for her right from the kitchen of Snoop Dogg. You can make the moment more enjoyable by inviting her to join you in the kitchen; you can bond over that.
We often overthink things, forgetting that it's the little things that matter and that we don't have to go too big when trying to make our loved ones happy.
You can grab this game, prepare an excellent environment and play some friendly games with your dear girlfriend. Doing this would cost much making it the ideal cheap gift for your girlfriend.
Bonding is one of the best gifts for every couple; it makes the relationship stronger and makes you both fall in love some more.
Seeing movies together is one significant way to bond with your dear girlfriend, so pick one of the movies on this poster and have a great time with her.
I often fall back to a box of chocolate when I can't figure out what to get my partner so you can get her this. If you have the skills, you should get her homemade chocolates. This is one cheap gift for your girlfriend.
Some interesting cheap gifts for your girlfriend would be a nice keychain, a tote bag, a box of chocolates, preparing a meal for her, etc.
--->> Final Gift Suggestion <<---
Still can't find what to get for that extraordinary person in your life? Check here; you might find something exceptionally interesting!!!