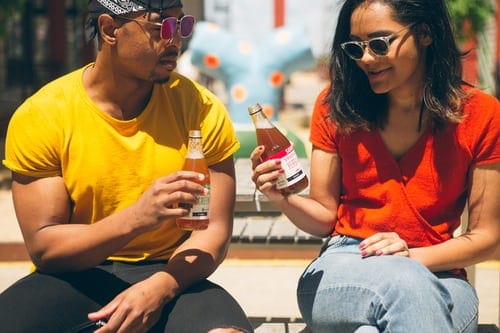 When picking gifts for platonic female friends, you try to stay friends without coming off as a jerk. Nevertheless, the presents should be practical and useful, although items like underwear are practical, you aren't in the position to give her that.
Platonic female friend(ship) could be your best friend, your sister's friends, your female coworkers, a friend in church, a married friend, etc. she is someone you have no-sexual relationship even if there's an attraction of some sort; whoever they are to you, we have good gifts for those female friends in your life.
Top Gifts for Platonic Female Friends
[table id=15 /]
Gifts for Platonic Female Friends
Although you don't stay with her, so you have no idea how much jewelry she has or how congested her makeup table is, one thing I know is the is a 70% chance that she doesn't have this excellent jewelry stand, and every lady will appreciate this as a gift.

This is a jewelry stand carved like a tree with three birds perched on it (ideal if she is a bird lover). It is a retro-style tree made of bronze with enough branches to hang her jewelry without them getting entangled. It is a beautiful item and a practical gift for your favorite female friend.

Is she a reader? How about getting her a Kindle Paperwhite? Compared to other Kindles she is probably used to, this is a unique item that is both waterproof and perfect for reading at night. It offers her 8 – 32Gig of storage space, enough to have a complete series of books from her favorite writer.

This version now offers audible features; she can pair it with her Bluetooth headphones or speakers to listen to her favorite story. Unlike the previous version, a single full charge of this item can last her for weeks and not hours. Its built-in adjustable light lets you read indoors and outdoors, day and night it is one cool gift for female friends.

You could also get your platonic friend this cute leather backpack. You could at least find out her favorite color or observe a prevalent color in her dressings, then go shopping.  It's a cute mini backpack for girls and women, used daily, shopping, on day trips, and short travel.

It can hold her wallets, keys, cell phones, makeups, other small accessories, and stuff; although it can't fit her laptop or iPad, this is still an excellent gift idea for your best female friend – we ladies love it.

Another practical gift for your platonic female friend is these comfortable fluff slide slippers. It is made from 95% wool and 5% polyester and designed with a leopard skin imprint. It offers an elastic strap that could act as a sandal, too; therefore, you'll be getting her both sandals and a slipper.

Its soft sheepskin pairs with a plush band, while its lightweight platform keeps it airy. She can wear them with midi dresses or her favorite jeans.

Another cool item will be this makeup travel case that will come in handy if she's always on the road. The first obvious feature is its write-up; "A wise woman once said 'Fu*k this sh*t,' And she lived happily ever after" I think every lady should have this case. It is a simple bag that can fit into any of her bigger cases, a standout present for female friends.

I spend so much time in the bathroom compared to my brothers; if I get something as cool as this bathtub caddy, I am never leaving the bathroom. You can help her convert her bathtub into a Jacuzzi with this tray.

It offers her features such as a waterproof book or tablet holder, wine glass slots, and two removable trays for bath and spa accessories. There's a 90% chance she may never leave her bathtub with this gift available.

Another cool gift for your casual female friend is this leather journal. This durable hardcover journal is bound with PU faux leather, round corners, animal footprint end sheets, micro-perforated 100gsm cream pages, an inner pocket, bookmark, a lay-flat design, and an elastic closure a pen holder, making it the best journal anybody can have.

Although it is made of leather, it is still a perfect gift for vegans as its leather is from degradable and recyclable materials. Its paper quality is superb, thicker, and smoother than other journals. For an item that's just shy of $20, it's a perfect gift for hard-to-buy-for female friends.

"Good friends are like stars; you don't see them, but you know they're always there" You can remind her that she's a good friend by getting this mug engraved with the adage above. Every time she takes a sip from this mug, you will pop into her mind, and a smile should spread across her face. If you have a plethora of friends then this is one of those good gifts for female friends.

You can get her this quality wristwatch for a few bucks. This gorgeous watch isn't too silky or bulky, making it a perfect gift for ladies with a small wrist. The beauty of this watch is likely to draw attention and numerous compliments due to its beauty.

It adequately tells the time; it won't fall off her hand or is challenging to set up. It has a small face, but she wouldn't have difficulty checking the time with it—this sleek, dainty, and classic gift for your platonic female friend. You can also get it as a birthday gift for your married female friend.

There's hardly any lady who doesn't love ice cream; chances are your female friend loves ice cream too. With one button, she can have two quarts of delicious frozen treats with the Cool Creations Ice Cream Maker in just 20 minutes; I bet it is an ideal gift for women friends

.

Making homemade ice cream, gelato, frozen yogurt, and sorbet of any type in any flavor couldn't be more comfortable with a one-button operation. Its unique paddle makes processing pretty fast, while its sleek brushed metal housing makes it look as good as the treats it creates for her family and friends.

Every lady loves to look good and smell nice; you can add the Carolina Herrera spray to her collections. What sets this spray above others is its unique design and its incredible scent. The seller assures you it is an original product, so your female friend won't feel you got her an imitation. An original perfume spray such as this would always be a good female friend gift idea.

It gives a powerful fragrance to the woman who lives her life as she pleases. I mean that lady who loves her good side and celebrates her bad side. Its scent is inspired by Carolina Herrera's unique vision of a modern woman: audacious, sexy, elegant, and enigmatic.

You can contribute to making her sleep comfortable by getting this cute fox sleep mask. It's a cute silky eye mask with hand sewn felt Fox design on its outer side.

This sleep mask measures 18.5cm by 9cm with two black elastic straps that fit around the head. It is one of those gifts for female friends.

Pictures speak a thousand words; how about getting her this beautiful instant camera. No doubt she has a smartphone with a good camera, but nothing beats taking pictures with an item specifically made for taking pictures.

Whenever she goes hiking, camping, out with the girls, or visits the park, this instant camera will surely be going with her.

The Instax Mini 11 camera is smaller but more effective compared to its earlier version. The camera signals the recommended aperture setting with a flashing LED light, and the user can manually adjust the dial to the recommended setting.

You can also get this small gift for your female friend. The story behind this bath bomb is unique; the creators aimed to have a bath product that was ALL NATURAL, fizzy, and fun for the whole family. It doesn't have any toxic fragrance of any sort.

Since it is 100% natural, it has many health benefits attached that your female friend will love. Aside from its natural organic ingredients, it comes with fabulous essential oils and six unique ultra-moisturizing fizzy bombs.

Who doesn't love chocolate? How about you get this 19-piece chocolate gift box filled with milk chocolate, dark chocolate, e chocolates,

and classic Belgian fillings for your female friend? This exceptional assortment includes the finest chocolates, featuring milk, dark, and white chocolates.

It also has classic Belgian fillings such as silky ganache, creamy pralines, rich caramels, fruits, and nuts. Pieces include 50% Dark Demitasse, Almond Praline Raindrop, Cherry Cordial, Coconut Pyramid etc.

They will arrive in perfect condition, no matter the weather. Its elegant gift boxes are tucked inside crisp, Godiva tissue paper to create an excellent gifting experience.

In cases where you don't know what to gift them, an Amazon Gift Card would do well.

This teardrop earring would be a cool addition to her outfit; it is astonishingly beautiful making it the classic male to female best friend gift.

How about getting her a lovely strong Kimono Robe? Designed using the finest ultra-soft velour, this house robe makes for absolutely comfortable nightwear for women.

This collection of pearl bracelets would cut it; it surely would.

An essential oil diffuser would make her environment awesome and relaxing. Rest assured that your favorite platonic female friend would have a good time in such an atmosphere.
Wrapping It up on Gifts for Platonic Female Friends
To avoid giving the wrong impression or passing the wrong message, it is good that you carefully select a gift for your platonic female friends. On this list, we have listed the best items for her. Please go through our list and choose. Thank you for stopping by. Do have a nice day.