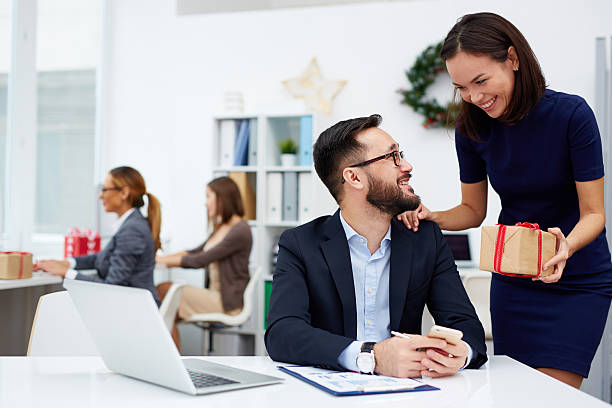 This year's Christmas, you won't be leaving out your dear coworkers; you don't even need to break the bank to get something for them.
As a one-time gift shop worker, I'm a proponent of getting gifts in bulk when you have many receivers in a particular place. I've curated the best bulk Christmas gifts for coworkers in this gift guide.
These gifts range from practical items to keepsakes, but one thing is sure the mere fact of thinking about them in the form of gift-giving is what matters.
Best Bulk Christmas Gifts for Coworkers
I feel this is the perfect gift for your coworker, and this is a pen and a flash drive to crown it all; it gives room for a customized message.
The beauty of this gift is that your coworkers would use it for a long time; even if the pen's ink finishes, they can still enjoy the storage feature.
A set of drawstring Christmas bags is another fantastic bulk gift for your coworkers. These bags are beautiful, with some awesome designs. Your coworkers would have different ways to use this bag; up to them.
I feel this is another excellent gift for coworkers, especially those who spend hours in front of a computer screen, which is pretty daunting and could have an adverse effect, especially in the absence of blue glass.
These eye masks can expel harmful toxins and significantly hydrate their skin, increasing blood circulation, improving cellular metabolism, and reducing wrinkles, dark circles, and puffiness around their eyes.
Our environment and atmosphere can significantly influence our work rate, moods, and feelings. For this Christmas holiday, consider getting your coworkers a scented candle.
This bulk gift contains about 12 candles with 12 different fragrances, including tangerine, spring, figs, strawberries, lavender, vanilla, gardenia, and much more.
You probably know how stressful your guy's work is and can guess how integral a stress ball would be. This funny-looking ball would help around, and it helps relax those who use it while promoting output.
It is up to you to throw something into this bag, or you can gift this to them alone. These bags are sturdy and pretty durable and not easy to damage.
This is specifically for the ladies at your place of work, and it is a set of awesome spa headbands. These headbands are so adorable, bringing out the beauty of whoever is wearing them.
I believe this to be the most straightforward yet most practical bulk Christmas gift you can get for your coworkers. Typically, a gift of this nature would feature the receiver's name; you can take things a step higher by carving out your coworker's nickname instead. They'll love and cherish this.
Another way to put a smile on your coworkers' faces this Christmas is with this stress ball, just like the one above; this ball would help with day-to-day activities. This is a bit more unique considering the inspirational message engraved on it.
Personalize the pens they'll be resuming work with after the holiday with this bulk gift.
Some incredible bulk Christmas gifts for your coworkers would be this pen & pencil case, and this gift set contains about 8 of these cases.
While most people use these as cases for pens and pencils, others could use them as cosmetic bags. Whatever your coworkers decide to use as it would still serve effectively.
These are pretty little gifts, tiny that they may be mistaken for coins. They are worth a lot, as gifting them to people might be the exact thing they need.
These chips all have some affirmations and inspiring words to help your coworkers navigate life well.
You can gift your coworkers these candy rolls for this year's Christmas.
This gift set contains about 16 aluminum water bottles. It is a set of twist cap water bottles that are well designed for the car, office, gym, and school and provides one with peace of mind knowing their water is not going to spill.
The COVID-19 pandemic was an eye-opener; since then, many people have taken their hygiene seriously.
Gifting this hand sanitizer to those in your workplace as a Christmas gift is one way to show how much you care about their health.
Wrapping up on Christmas Gifts for Coworkers
Some thoughtful bulk Christmas gifts for coworkers include a pack of stress relief balls, a customizable keychain, scented candles, an eye patch, hand sanitizer, and much more. Most of the gifts in this guide have good use cases, and most are practical gifts your coworkers would use even beyond the Christmas season. Have a great shopping.