Last Updated on
You never know how important the delivery guy is until when you are in dire need of a parcel. I'm not taking this from any job. Personally, I believe all jobs are just as important as each other, there are grey areas, though, and one such is the Amazon delivery guy.
We "may" earn a little affiliate commission from purchases made with the links we suggest.
I don't know about you, but from the second I hit the order button on any e-commerce store, I expect that my product will be delivered; that moment, I start monitoring the process and looking out of my window in anticipation, thanks to people like your dear Amazon delivery guy, I often always get my product.
These guys often spend time in the cold; they have to drive through so much traffic across cities, and towns and cover long distances. Considering how tedious this is, you'll agree they deserve some appreciation. In this guide, I have some awesome gifts for amazon delivery drivers; they'll love the items on this list.
Most delivery companies would prefer that you don't get their drivers anything, while others like you don't get them overly expensive gifts.
Well, if it is a random delivery guy, maybe someone you don't know personally, I may suggest you keep it simple, but if someone you know besides during work hours, then you can go big.
Other Gifts for Drivers
Best Gifts for Amazon Delivery Drivers
This is one of those "big" gifts for any delivery guy. This food warmer would ensure that your dear Amazon driver would always have their meal at a perfect temperature despite the blistering cold, especially during the winter.
Available Here
This gift isn't standalone, although it is addressed to your receiver. It points the driver to the package or gift you have for him. Below are some other lovely gifts you can pair with this sign.
Available Here
St. Christopher is the patron saint of travelers. You already know how much traveling your dear Amazon driver undertakes. While we don't pray for any issue, the prayer and guidance of St. Christopher would protect and guide him.
Available Here
The driver has a truckload of documents; in most cases, there are some things the receiver needs to sign off on, addresses of places he needs to visit, his car documents, and much more. With this organizer, your dear Amazon driver can have his papers arranged.
Available Here
This beautiful yet funny t-shirt summarizes the daily activities of every Amazon driver.
Available Here
Sitting on your office chair for hours causes pain, as does sitting behind a steering wheel. This lumbar support pillow is a thoughtful gift for the Amazon driver, with this at least he wouldn't suffer a bad posture moving on.
Available Here
7. Coffee Gift card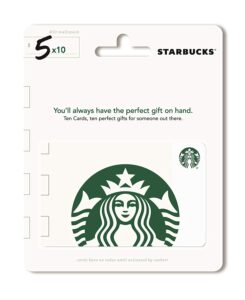 Do well to get your Amazon driver a lovely coffee gift card. You know how important coffee can be, especially for someone who has to drive for hours, especially at night. You don't want him sleeping off while driving there's so much that could go wrong, from late deliveries to accidents to damaged products and much more.
Available Here
It is often recommended that small snacks like protein bars are ideal gifts for your dear Amazon delivery guy. You can get as much as possible, so their energy continually replenishes while driving for hours.
Available Here
A nice packet of chocolate chips is a nice gift to get the driver too.
Available Here
Keeping your Amazon driver hydrated is very important. To satisfy this need, a big water bottle such as this is his ideal gift. This is one gallon of water and comes with a straw.
Available Here
This is perfect, especially if you are trying to keep your expenditure low, then this peanut bag is perfect.
Available Here
You don't want your Amazon delivery guy dehydrated; a pack of waterbottle is another ideal and thoughtful gift to get him. If you decide to go with this pack, he'll be receiving over 30 bottles of water.
Available Here
There are so many advantages to chewing gum, one memorable one is it'll help keep you awake. Stay awake, especially after covering a long distance, is pretty difficult, but with this pack of chewing gums, the Amazon driver would have a good shot at staying up.
Available Here
Hello, can you please go below to comment, suggest and rate this post so we know how we are doing, what to add and to improve.
--->> Final Gift Suggestion!! <<---
Still can't find what to get for that extraordinary person in your life? Check here; you might find something exceptionally interesting!!!
Stephanie May is from Calgary in Canada, she's resided in the US for over six years now and worked in a Gift Shop during college so you can count on her gift suggestions. Thank you