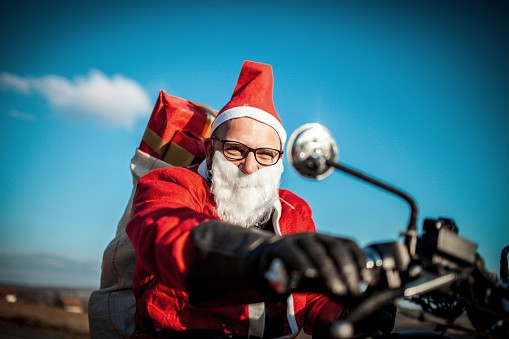 Harley Davidson's brand has been around "forever" its lovers are often unique and have a strong affection for their bikes. Even those who aren't directly involved still find the brand attractive. Although I'm not expecting you to get a Harley Davidson bike for them, there are still countless bike-themed gifts. For the record, the first week of March is when these bikers are the happiest, so mark your calendars. Without much ado, check out these Harley Davidson gifts for men.
Harley Davidson gifts for men
I'll place this gift as one of your dad's best Harley Davidson gifts. This wallet is made of black and tan distressed genuine leather. It is durable and pretty awesome. Harley Davidson fans are often the toughest guys around the block, and this wallet is one tough piece for them.
Another Harley Davidson-themed gift is this clock. It is an item with Long petty lasting; bright orange LED lights emphasizing the Bar and Shield logo. This item would sit pretty in his man cave, bar, or office.
He can't go out with his helmet or his bike. However, he can step out with this fabulous ring. One black steel cable band proudly displays the Harley-Davidson bar and shield emblem. This stainless steel ring would make every outfit awesome.
A good Harley-Davidson shirt is one famous gift often gotten for brand lovers. This shirt is one of such. Unlike the usual, this Tees is an excellent item to have in his wardrobe. He can step out with style and show the world how much love he has for the brand.
Brand lovers love to keep everything in-house. You rarely see random people repair or try to fix their bikes. With this M19 multi-tool, your favorite Harley Davidson lover would have enough equipment to work on his motorcycle. A set contains spoke wrenches, chain tools, hex wrenches, screwdrivers, and much more.
Help him add style to his man cave by getting this wall-mount bottle opener. It is an original piece made from old wood crate materials and shed deer antler. The makers of this product also included bottle cap catch bin pivots for easy emptying.
An ideal Harley Davidson gift for couples would be this item. This is a salt and pepper shaker designed like a Harley Davidson bike. This classic motorcycle is sure to bring back memories of the open road during mealtime with a cleverly placed pair of salt and pepper shakers in its saddlebags.
Gift Cards are my best fallback gifts. With this gift card, your favorite Harley Davidson lover can use the card at participating U.S. Harley-Davidson retail locations, online at H-D.com/store, and the Harley-Davidson Museum. Also, check out our gifts for cyclists.
Since we wouldn't be getting a new bike for him, how about going with this HD-themed garbage can. We can show the world that this man is a strong Harley Davidson fan down to his trash.
As these HD couples take this journey, we can make it more fantastic by having their picture on this frame. Its write-up "Life is a Journey, Let's Ride" really applies to them. It is a unique Harley lover's gift idea to add to their Harley Davidson accessories.
Most HD lovers are real patriots, something many of us should emulate. We know the American flag's symbolism, especially on the bald head eagle. It is a perfect item on their room or work cave walls.
This leather flask is one personalized Harley Davidson gift. Your darling HD lover would drink his whiskey with style from the moment he has this item till forever. Also, you can check out our gifts for bourbon lovers here.
Many feel happiness when they are using items that are somehow related to their interest. This vintage durable bottle opener is a perfect addition to his collection.
Although this gift guide is for men, you don't have to leave out his wife or daughter, especially if she is an HD lover. This lady biker statue is a perfect addition to his collection.
Another bike-themed gift is this accessories storage. He can organize his table with it. It has a small can for office items like pencils, pens, erasers, and other miscellaneous. It is a Harley-Davidson gift for under $50.
While going at top speed, the wrong glasses could cause more damage than good. These shatterproof polycarbonate lenses provide maximum eye protection. Its UV400 filters eliminate the harmful UV rays of the sun. While its scratch-resistant coatings protect the lenses from daily abuse.
These magic 3d Led lamps play tricks on your eyes; it is a light guide glass plate in actuality. Especially looks like a real 3D night light in the dark or take a photograph, the vision thrill will be strong! This is one unique Harley Davidson gift for him.
This shoe can be described in one word "Quality." It is 100% leather accompanied by a rubber sole. It has a grand boot opening, shaft, and heel. This is a premium product.
He can have fun with the boys in his bar or shed by playing with this dartboard. It offers a staple-free bulls-eye feature alongside some excellent Harley colors. It has metal numbers with proper spacers.
A unique bar gift for men, dads, husbands, or boyfriends motorcycle lovers. A classic nostalgic and unique design with a motorcycle pattern, suitable for decorating wine bottles with black gifts box.