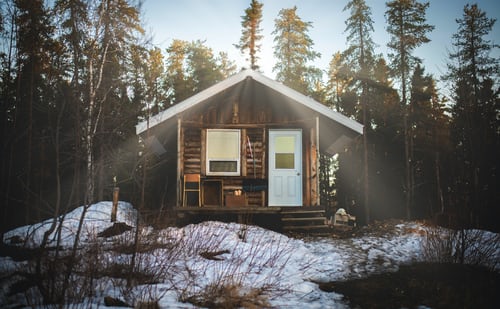 Last Updated on
Serenity is addictive, so I understand why dad loves going to his cabin. This is often the case with men who have aged quite well, and I mean the older men, especially those who are retired. To support him while he is locked away, you should consider one of these cabin gifts for dad.
Whether it is for Christmas, Father's Day, an Anniversary, his Birthday, and much more, getting gifts is ideal. I have unique cabin gift ideas for your dad in this gift guide, which are helpful and practical.
If possible, you could first check to see what he doesn't already have before going shopping; let's ride. You can select one of these gifts for older men you know.
Best Cabin Gifts
[table id=27 /]
All Cabin Gifts for Dad
In some way, moose are synonymous with cabin houses; you can always find the antler of one or the head of a bear in most cabin houses, so getting a moose-themed item is cool.
If your dad is a wine enthusiast, he will happily feature this moose wine bottle holder in his cabin house. (Every Harley Davidson lover would love these gifts). Every time he takes his wine from it, he smiles because this item is fantastic. This is one unique gift for dad.
While locked up in the mountain or close to that peaceful lake, dad's favorite beer brand may be far from reach, but that shouldn't stop the older man from having a beer, so get this awesome beer brewing kit.
This craft beer kit will turn dad from being a beer lover into a beer brewer and give him all the independence, experience, and fun of brewing his home beer. You should also check out these Yeti gifts for men; I mean he needs a tumbler to sip that beer.
Dad will continuously need to hit the woods to gather firewood, mostly if his cabin isn't electricity-powered.
Instead of carrying the firewood on his head or back, this unique firewood holder will do that job. You'll be doing him a great favor, with how easy it is to move this firewood, dad would constantly have the means to heat his house.
"Better safe than sorry" You should consider securing Pop's cabin with these security cameras. It doesn't have to be from intruders alone; wolves, mountain lions, snakes, and much more are some impromptu visitors your dad might not be prepared for. A wireless camera is something every cabin needs.
Being away from the world doesn't mean being away from coffee, is pops an enormous coffee enthusiast? Then it would be best if you got him this hand, coffee maker. It is one of the best and most versatile espresso machines. Also, you could get these gifts for your father-in-law.
You can add style to his culinary activities with this unique salt and pepper holder. We all know the story of Papa Bear, Mama Bear, and Baby Bear.
Those fantastic three got into their canoe and swam to dad's lake house to help him hold his salt and pepper. It is an impressive gift for Pop to use in his cabin.
Before leaving the house, dad might likely carry many things, especially supplies; you could get him this awesome storage bag. Although most prefer using this as a waist bag, I believe it is multi-purpose.
Collapses down for ease of storage. It is an incredible lake gift for your dad. If Pop has a girlfriend, these gifts would mean a lot to her.
You have no idea when and where this survival kit will be necessary; it contains over 24 tools that can come in the most extreme conditions.
If you get this for your dad, you will get an upgrade survival knife, survival paracord bracelets, wire saw, water bottle clip, emergency blanket, flintstone, scraper, etc.
Considering all the tools, this gear kit possesses, this is one valuable cabin gift for your dad that could be gifted on Father's Day.
Every time the family visits dad in his humble bat cave, there are many rules they should know to avoid emergencies; this vintage pillowcase can help pop out.
This cute rooster weather vane is another fancy gift to fit in his cabin house. He wouldn't have time to assemble it.
Also, with this, he can tell the direction of the wind so he can easily prepare his fire, especially in the absence of a good fire pit.
You could also create a metal post for pops that explicitly states, "He owns this lake house." This sign is a personalized cabin gift for dad and also a lake gift for dad.
As I said up there, you often find a deer antler in most cabins; some are real, some aren't. If you don't want him hunting for one, you can get this for him; although it isn't as big as what we typically see in movies, it is still something that would bring beauty to his cabin. Get this item for your dad, as it is an awesome cabin gift idea.
Your dad will most times want to sit outside and watch the lake; he doesn't have to keep using that log of wood as that could affect his posture and hrt his old bones with this comfortable rocking chair he can have more comfort while gently rocking front and back while watching the sea.
Light is essential; although the firewood can give enough light, it wouldn't hurt to have a reliable solar lamb like this one around.
The solar lamp is made of natural bamboo material, it is a lightweight item so there won't be much stress for dad with this around. It is one thoughful gift for a log cabin home.
You could get this forest-themed candle for pops. Dad can have a luxurious retreat in front of a cozy hearth, warm with the aroma of cedarwood and sage.
If dad often grills while at his cabin, you should get him this complete grill toolset.
Suppose your dad's cabin is next to the water; this K2 Kayak would be the ideal lakehouse gift idea for him.
It is adjustable and inflatable while also offering an excellent backrest to enable dad to enjoy every second he spends in his cabin.
Be it fishing or repairing something in the dark parts of the house or day, your dad 's surroundings would always be illuminated with these gloves. The coolest part of this is, he can see pretty dark corners with this gloves. This is one excellent cabin gift idea.
It is sometimes pretty foggy in the woods; to deal with this, pops deserves a good anti-fog google such as this. The Christmas seasons are often foggy so we have here a good cabin Christmas gift.
No matter how good zaddy is with grilling, a grilling thermometer such as this could come in handy.
No, this candle isn't made of wood; however, it is a pack of candles featuring some common animals dad may encounter in the woods.
It is okay if he encounters a deer; maybe he'll do fine with a moose; I hope he doesn't face a beer, though. Nevertheless, this candle is an impressive gift for dad.
People tend to love the calming sound wind chimes produce, but we can't have wind chimes in the noisy city; when dad is locked away in his quiet cabin, he can enjoy the incredible sound this wind chime produces. It is an excellent cabin gift idea for your dad.
Above, we had a family of beers serving your dad by holding his salt and pepper shakers. Now we have a different family of beers serving dad's cabin house by offering him good coasters.
When he uses his oven or his grilling set, this oven mitt would be there to protect him. As a plus, it is crafted to resemble a bear's paws, so dad would easily bear the heat of the oven – pun intended.
I can't tell which is more remarkable about this item, and the solar light would surely come in handy multiple times for dad.
The bear is a nice decor in his cabin house, while the welcome sign is well-designed to appear welcoming. This item deserves to be in Dad's house.
This dish towel would surely come in handy. It does a great job being a dishtowel like others; however, the design makes it an even more perfect cabin gift, making it unique compared to other random dishtowels.
This pole resembles an actual fishing pole; however, it isn't a fishing gift for dad but something beautiful to have in his lake house. He can have some awesome pictures on this frame.
Do you know how scourging the cold is, even in a busy city? Now picture how much cold dad would be dealing with in the cold and quiet woods.
This weighted blanket would help keep dad warm around the clock, and he'll so much appreciate this weighted blanket.
Wrapping It up on Cabin Gifts for Dad
Shopping for men is difficult, but you should get a cabin gift for dad since you know he has a cabin and loves spending time there. Every item on my list is perfect for his cabin; dad will appreciate it. Thank you for stopping by. Do have a great day.
--->> Final Gift Suggestion <<---
Still can't find what to get for that extraordinary person in your life? Check here; you might find something exceptionally interesting!!!