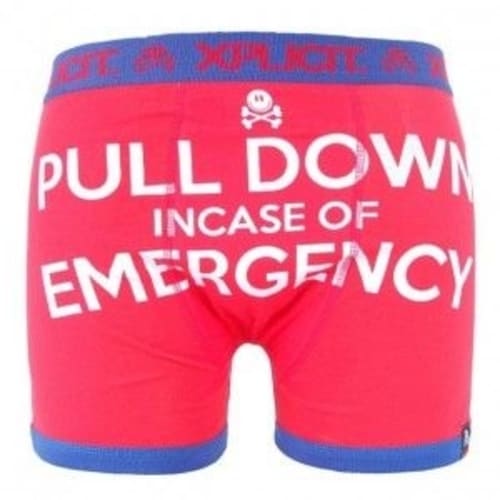 Laughter is the best gift, especially in this festive season. You could get him a gift that will make him laugh every time he sets his eye on it. Picking Funny Gifts for Him could be tricky; you know how difficult men could be when it comes to receiving.
In this article, I have compiled the 20 funniest gifts to get him this Christmas. The gifts on this list pass of as Gag gifts too. Go below and chose one or two. See also, gifts for older men.
This gift also passes as useful. He will stop being that dude that gets water stains on your tabletops – get his fancy-on with these drink coasters and instantly turn his "eh space into a fun, interesting, sophisticated, and unique hangout.
Make him that trendsetter! He gets three different sayings with this set to match the personalities of each of his guests. It's a crazy gift, especially if he always has visitors.
A classy but fun science funny gift for him. This science gift for adults, especially men, makes a great science teacher gift or a gift for someone in the medical industry.
Science nerd gifts are a perfect STEM gift for any science lover. Apart from the scientific part of it, the present is also funny, and someone with a high level of humor will get the jerk or it.
Since most men enjoy a cold beer, like to fix things around the house, and are proud masters of the grill: the Beer Holster Classic is the perfect funny beer gift for men of all ages. No more stopping work to take a sip: the Beer Holster Classic always keeps his chilled beverage within his arm's length.
He can wear it on his left or right hip and take a sip anytime. It is a funny but classic universal drink holder for all types of outdoor activities.
If you guys are quite close and you know his level of humor well, then get him this crazy gift. It will help Keep The Funk Off his Junk with a winning combination of essential oils, plant extracts, and activated charcoal. It is perfect for men who work hard. It has a fantastic smell.
Most men's body washes leave them smelling like a bottle of cologne exploded on them, GROSS. Ballwash smells excellent with a clean, fresh scent without being overpowering.
Okay, it isn't what you are thinking; trust me. This protective wine covering was Invented by a mother-son duo, inspired by a Macgyvered wine seal that looked like a makeshift condom.
Unaware of the success that would come from this hilarious, yet effective solution to resealing opened bottles of wine, they set out to create this fun novelty gift. With a bigger is better mentality (pun intended), the newly upgraded wine condom version 2.0 is the ultimate wine protection and preservation.
If he is a Dad or yours, you could get him this crazy one. Everyone loves badly timed Dad jokes because our dad tells them, and we only get one Dad. So help let help him improve his collection of jokes that will make us cringe and laugh at the same time.

This is from the guys who wrote the bestseller. All my friends are dead that had over 100,000 sold. It is humor at its pick. He will indeed like this, especially if you have a young man in mind.
Take him down memory lane with this awesome gift. It is an awesome but funny game he wil be thankful for; you should get this gift for him this Christmas.
Now, this is a fun way to keep the toilet clogging men from spending time in the bathroom! Get him the gift of time management, and teach him to wipe, flush, and plunge away lavatory laziness instantly. The Toilet Timer allows him only 5 minutes to make it happen. In the spirit of extravagant flatulence… gentleman, fart your engines!
If we are talking about humor, then this gift will cut it.  Featuring two-toned red blood splatters on the interior and exterior of the bowl and hand-painted black lettering. It is a nice gift for him, especially on Mondays or when he has an interview or presentation, he has to kill. The bowls are hand-painted, making them unique in design.
Although it is quite funny, you can make his trip to the toilet fun for him, especially at night. ToiLight is incredibly easy to install.
It uses a flexible arm that takes the shape of any toilet bowl and STAYS IN PLACE. No useless suction cups. With this gift, he wouldn't have to put on the bright toilet lights every time.
Packed with profanity and over 200 swearing stickers for him, this sarcastic and humorous adult wall calendar says it like it is while keeping him organized.
He could hang it on his wall, or in his office. It is one crazy funny gag gift to end the year with. It's time to let it out, cut the crap, and (maybe) swearing will help him!
Looking at the picture alone is quite convincing, then imagine it in real? Lol. Are you searching for a perfect Gag funny gift for him? Then get this Belly Beer waist bag.
It's been an ideal hilarious present for father, husband, and boyfriend. This belly waist bag will help you create a memorable gift for someone appreciating a little humor in stressful situations.
The write up on the socks says it all. What you have here is a funny, astonishing gift for men and boys.
Never again will he have to ponder which side of the soap he used to wipe his butt or face in the shower or worst; Which side who used! Lmfao. This soap has solved this timeless problem once and for all.
It will leave him clean and fresh, and free his mind of where that bar of soap has been. One side is brown and is engraved with "BUTT", flip the soap over to reveal the white side, engraved with "FACE".
Trevor Noah did an awesome job with this book, the compelling, inspiring, and comically sublime story of one man's coming-of-age, set during the twilight of apartheid tumultuous days of freedom that followed.
We've all seen what zombies are capable of doing; I mean, these great movies; Walking Dead, 28 Days Later, World War Z, and so many zombie movies out there have passed their message, now the Zombie Defense Solutions have put together a 3-day survival kit, to help you get off to a strong start once the zombie attacks begin. You can get him this gift also to prepare him for the great war.
If the top of the Nutella jar is the same size as Ben and Jerry's pint itay work. The lock is two parts, they interlock by one raised from the bottom of the pint, and the other is put right on top. It's awesome for those enthusiasts that can't keep their hands off, though!
If he is a dog lover and probably a Workaholic, then this right here is for him. What we have here is a well-printed write up that reads, "I work hard so my dog can have a better life."
It is a crazy Dog T-Shirt for men; he can transform into a Ninja at will. To get him to show his Ninja disguise, you have to say the magic words "Ask Me About My Ninja Disguise." See these gifts for your sister-in-law.
Wrapping It Up About Funny Gifts for Him
From the Ninja Disguise shirt to the funny Belly waist bag up to the funny coaster drink holder, what we have here is a list of funny Christmas gifts for him. You can make this holiday lit; pick any gift here for your gag celebration; thanks for stopping by.