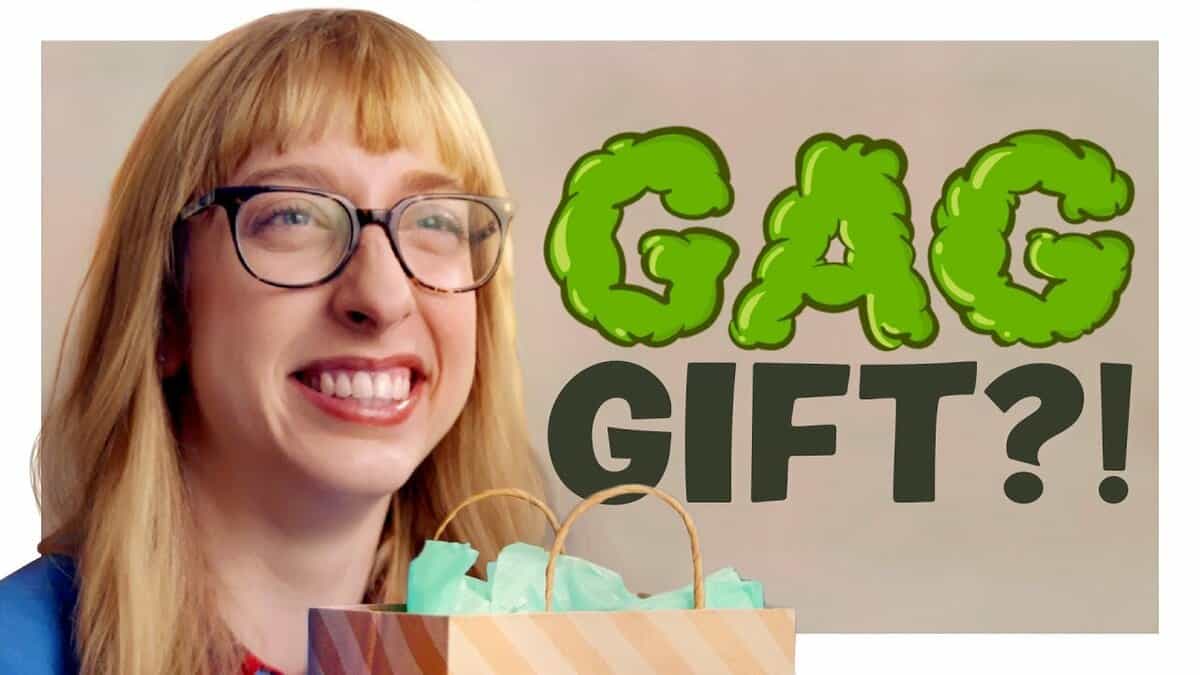 It is always easy to get presents for ladies, but you need to be a bit careful when it comes to getting gag gifts for women. Gag gifts are characterized by being funny, inappropriate, sexual, naughty, and sometimes offensive. So, it would be best if you first weighed how close you are to her before you go shopping.
Well, to save you the stress of thinking up which funny gift is okay to give your wife, coworker, BFF, etc., I've got that perfect gift guide for you. Without much ado, please go through my gift guide and make a choice. You can also check out this list of general gag gifts for everyone and even this funny gift list for him.
You can save your female friend the stress she gives her lipstick when she says, "Bull sh!t" by getting her this big red Bullsh!t button. It is a funny and cheap gag gift for anyone. All she has to do is press the red buzzer to make it light up, buzz loudly and announce, "That was BS!" or shout "BS detected, take precautions."
With this gift, she will be dealing with less BS as the wailing scream the button gives out is quite annoying. Tell her to keep it hidden as some scratchy hands may want it for themselves.
Next, we have a crazy item for ladies. If you can compare the carnage her fart leaves to a nuclear bomb, then you should get the Subtle Butt for her. These antimicrobial, activated charcoal pads filter odors from intestinal gas. It neutralizes any odor that passes through it, so it doesn't let any escape it!
The Subtle Butt offers soft fabric-covered antimicrobial activated carbon pads that are thin, discreet, disposable & self-adheres to clothing; it is one fun gift idea for ladies.
One of the characteristics of gag gifts is deception, and these bubble gum magnets does that well. When she unwraps the gift, she might have the impression you gave her chewed gum, then when she discovers what it is, a good laugh is expected.
It comes in various colors; bubble gum, spearmint, peppermint, and tutti frutti. Each set comes with four magnets, allowing her to stick it on up to four different surfaces. Everyone who uses her fridge will have something to say. The chewing gum feature makes it one funny gift for girls.
No!! It is not what you are thinking; picture how your wife will feel if she gets home and everything has been arranged, clothes well stacked, house clean, food ready, and much more; well, in this book, that fantasy can be real.
Every time she opens this book, she will burst out laughing as there's always something to lift her spirit, she can have this at her office table, and every visitor who gets a hold of it will ROTFL. It features a funny gift for your girlfriend or wife.
One crazy argument men love using when comparing themselves to women is, "Can you control the direction of your urine?" Well, with this gift, yes, she can. This may seem an inappropriate gag gift for some, but for a lady, you are pretty close to, it is a cool one.
It is a discreet, reusable, funnel-shaped female urination device that provides a revolutionary bathroom solution for women to go anywhere – concerts, porta-potties, camping, boating, and more, aside from being funny, it is quite useful. See gifts for your favorite aunt.
"Yes, we are friends, but please leave my ice cream alone" If you get her this unique funny gift, she won't have to say that again. You shouldn't expect any top-security from it as it was made to be funny and not stop a friend who is determined to steal her ice cream.
For a few bucks, you can get her this funny table accessory. It will make a good gag gift for your coworker. It is a fun art deco desk accessory that includes a pen holder, tape dispenser, memo/cardholder, paper clip holder, and just a great conversation starter piece that perfectly fits any desk.
No matter how tough she is, she sometimes needs to be reminded that she is incredible, and this book got her covered. It may seem too serious for a gag gift, but you never can tell; this may be precisely what she needs. The book contains positive affirmations from Becca Anderson, which reminds her that she got this!
This book teaches her the art of affirming herself daily; it helps her experience a life filled with love, joy, fulfillment, and satisfaction while enabling her to take control of her destiny and strengthens her self-esteem.
I'll call this a unique funny gift that is still useful.  I am not a big fan of switching on the lights when I use the toilet at night, and I know many others who don't like doing that too. If she regularly uses the bathroom at night, then this night light will be perfect for her.
This item has a motion sensor that lights up the toilet anytime she is within 120° and shuts off automatically when she leaves. This toilet bowl night light comes with a PVC fragrance slice to help improve the toilet's smell around and purify the smell of the bathroom. One-piece fragrance slice can be used in 3 months.
We have another inappropriate gag gift here; although it's inscription is witty, it is one useful doormat as it is crafted of all-natural coir with non-slip backing to meet the industry's highest standards. It combines an artist's touch with affordability to provide functional artistry for the home. Every of her visitor who encounters this mat might burst out laughing or …
Another Christmas gag gift idea will be this coffee mug. This coffee mug is not just about the witty and humorous; it also about quality. It is produced from the highest quality of glass and printed with durable white ink.
This product is made in the USA and has undergone strict quality control to ensure that you only get your money's worth. It also features a wide base and smooth rim to enjoy with their favorite coffee or tea. All glass coffee cups are both dishwasher and microwave safe.
One of my female friends is the bluntest and craziest human I have ever met; her mouth runs like a tap, she says the first thing that pops into her head and doesn't filter anything, so I am likely getting this item for her on her birthday. It has an inscription that reads, "Just Because It Pops Into My Head Does Not Mean It Should Come Out of My Mouth."
It can sit well in her family room, living room, bedroom, office setting, and more. This sign is a box sign and will sit freely on a shelf or table. It has a feature attached to the back to hang on the wall as art. It is one funny gift for girlfriends that talk too much.
Tiny hands can be attached to her fingers and can be used for stand-up shows, comic shows, gigs, gags, stunts, pretend plays, Halloween costumes, or even fun with her friends. Whatever the occasion, whenever the time, they have her back!
All she has to do is place them in between her fingers, and everyone will be tricked, amazed, and a little frightened of her freaky little hands. As tiny as they are, they'll ensure big laughs from her friends and family. I'll use them as a gag gift for a woman who has kids.
Does she love being alone or sometimes suffer from indecision, then get her this psychic ball which gives her sarcastic and funny random answers to questions. All she has to do is shake it or turn it for a response; it provides sarcastic responses such as "battery low," "obviously," "yes, if you leave me alone," "are you serious?" and much much more!
For the prodigal hippie, the French-web-footed-prostitute-in-another-life, and the woman who wants to bring some spice into the bedroom, the wait is over! Long gone are the days of picking up hairs from the bathroom floor and saving them to make your merkin.
Now you can buy a rug for Mrs. Downstairs in the color you want, cut it to the shape you need, and experience life to the fullest. And don't fret, no actual kitties were harmed in making this product as Kitty Carpet is 100% polyester faux fur making it a great vegan gift.
Wrapping It up on Gag Gifts for Women
Like I stated above, you have first to weigh how close you are to her before you go shopping for gag gifts. Also, we picked the best gag gifts out there, but you should read the reviews too. And Amazon remains the best place to buy gag gifts. Thank you for stopping by, do have a great day.