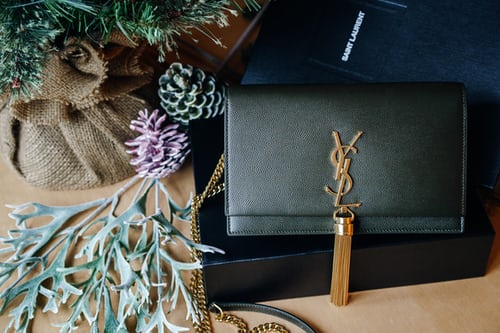 Getting leather gifts for her to celebrate a happy three years of marriage is the traditional way of doing it; the leather gift signifies flexible durability. However, we have crystal or glass gifts that represent remarkable beauty yet fragility in modern days.
Nevertheless, since you are sticking with leather (which I must commend you for), I have unique leather gifts for her. Please go through my list and pick the best of the best 3rd-anniversary gift ideas for your wife, and put a smile on her pretty face.
Best Women's Leather Gifts
[table id=33 /]
All Leather Gifts for Her
First on my list is this excellent leather photo album. Although you are just three years in, and probably they aren't enough pictures of you two to have there, don't forget you have "Forever" together – and that's pretty long so that they will be pictured in the future; yeah, this photo Album is a great pick.
The pages are beautiful and leave a space to write; the book looks great on the shelf; plus, if she uses all the pages, she can order more. It is a bonded leather, ring-bound album with leather reinforced hinges, black anodized ring metal, gold embossed hubbed spines, and hidden rivets, making it a perfect leather gift for young couples.
This should be the only or second item on our list that isn't made of leather, but the writings on it strike the "3rd-anniversary" celebration. The love is still fresh; the marriage is still beautiful and energetic; how do you plan on spending that night? Don't crack your brain; this date night dice has you two covered.
Another non-leather gift is this game, which is best enjoyed by couples. Enjoy date night in a completely new way. This toy for couples is a sure-fire way to get the sparks flying between you two! It will get you out of your comfort zone, remind you why you are three years in, and make you both wish for more.
Sharing laughter and fun can foster empathy, compassion, trust, and intimacy with others. Put aside the daily thoughts and worries and focus only on the game and your partner. Not all the cards are related to romantic topics, and this is undoubtedly a game for any couple celebrating anything, especially a third anniversary.
You can get her a set of these fabulous earrings made of leather for a few bucks. A collection features multiple patterns printed, including pumpkin drop, maple leaf earrings, fall acorn leather earrings, and classic teardrop shapes; these pumpkin and floral leather earrings increase the festive atmosphere and compete for your lots of compliments.
She will be getting 12 paired earrings, which will fit perfectly with many of her outfits. These handmade earrings are made of faux leather and stainless steel hook, nickel-free and non-toxic, lightweight, durable, safe, and reliable for daily wear. They are small leather gifts for her.
How about getting this bracelet pair as a personalized leather gift for you two? You can customize it to something memorable for you two; it could be the day you met, your first kiss, tied the knot, or even names you call yourself. Most couples settle with important dates written in roman numerals.
These leather anniversary gifts can be worn in dress and casual wear for couples. You both won't have to worry about it falling off unnoticed as its locking mechanism is very strong but easy to take off simultaneously. It is a fantastic third-anniversary present.
Who unlocked whose heart between you two? This leather couple keychain is an ideal present for a third-anniversary celebration. They depict a carving of a keyhole and a key made of real durable steel,
while the feature for holding your keys is made of good leather, making it a perfect leather gift for couples. The keyhole and key aren't irregular; they perfectly fit each other just like you two *wink.
Trust me; she needs this makeup bag. Do you two share the same table, and has she bullied you with her series of makeup? Then get this makeup bag for her. It has this unique marble look, which makes it quite romantic.
You probably don't know so much girly things, but this bag can store your sweetheart's cosmetics, toiletries, essential oil, nail polish, jewelry, electronic accessories, valuable objects, etc.
It offers a durable and sturdy stagnant leather material made from PU leather, different from other nylon fabrics. Yes, it is waterproof, scratch-resistant, and wear-resistant. Don't worry about the breaking of the glass container. It is a unique leather gift for her as she can travel with it. See these gifts for your aunt.
Is your lover a reader? Then how about getting her something that reminds her of you every time she opens that novel? This beautiful leather heart bookmark is a perfect item for a third anniversary. She will be getting four pieces of leather heart bookmarks, two brown pieces, one piece in coffee color, and the last piece in wine red.
This page corner bookmarks are sewn with full-grain leather. With the well-made and handcrafted process, soft and comfortable to touch, the bookmarks will develop pretty and antique green colors after a time that can show your good reading habits.
What are the initials of your names? Steven and Rose? How about you get this customizable catchall tray with an S & R to help tidy your table. Of course, it is made from durable leather and will catch items like rings, keys, phone, sunglasses, watch, and much more. This leather gift for couples is a great item to have around as it will Catch-All your accessories.
On their third anniversary, one famous gift for ladies

is leather gloves; what we have here is genuine sheepskin leather gloves. Aside from making her hands look sexy, these leather gloves will protect her delicate skin from the scourging cold of winter.
It is a practical gift as it goes well with any outfit; it also offers a 360° touch screen function, so she won't need to take them off while using her touch screen device. This sheepskin leather glove provides the softness of touch, suppleness, strength, and lasting comfort.
There's seldom any lady out there who doesn't love a good leather bag, so to commemorate her third anniversary, you can get her this practical quality leather bag. Aside from its many other features, its most apparent are its three layers, designed for different users to achieve maximum capacity.
The independent padded pocket in the middle protects up to a 15.6″ laptop. The other two side compartments are ideal for storing all of your essentials. It's a convenient tote bag with only positive reviews; your darling will love this item.
Is she a classic lady? I'm talking about that woman who wants nothing, then get her this Falco Suede Chelsea Boot. It is a handcrafted beauty from Italy from the finest leathers and suedes with weatherproofing and stain resistance finishes.
Its contemporary design adds a nod to the classics for the discerning woman who wants to look their best, in whatever weather. Let me whisper to you, you as a man can wear it too, so technically, it is a We-gift for couples. If you don't plan on sharing it, I'll call it luxury leather gifts.
Three years is not that easy, so I suggest celebrating your third anniversary with this beautiful picture frame. It offers a place to place that lovely picture of you two while surrounding it is months, weeks, hours, minutes, and seconds that can be summed up to three years. "Three years forever to go" you two have started this journey; get this item and get ready cause it's forever for you two.
Does she love taking notes, documenting things, and creating great ideas? How about you get her this leather cover vintage writing journal to help her document things. Every time she opens it to write, you will pop into her heart, and as her darling that you are, she will write with a smile on her lips.
I can't leave out a kinky leather anniversary gift for her; these leggings got you covered. It shows all those curves and brings out that shape that probably attracted you to her. With so many positive ratings, you can choose from over 15 different types for her. These leggings fit perfectly, and they are so soft and comfortable. Not too thick and not too thin material.
More leather anniversary gift ideas for her
This package also comes with two insulated mugs for the woman who likes her drink at a specific temperature. It is fully insulated, but it is also a stylish and luxurious fashion piece.
Quality, stylish, beautiful, and durable are a few features of this jacket, and as a leather 3rd-anniversary gift for her, you are sure to earn a hug.
Who said women couldn't rock a good wallet such as this? Well, get her this quality wallet that comes equipped with RFID Blocking features to protect the information on her cards from being stolen.
This rose is natural; no, it isn't fake. If she's your spouse, this is one way of reminding her how much you love her.
Keep her clothes or outfit pure and clean while in the kitchen or when engaged in other dirt-prone activities by getting her this leather apron. This is one practical leather gift for her third anniversary.
Wrapping It up on Leather Gifts for Her
Three years is an incredible amount of time together; like I always tell my friends, every little achievement should be celebrated. Please go through my list and pick a unique leather gift for her and make that celebration perfect. Thank you for stopping by; you do have great shopping.